New 'Teen Mom' Star Jade Cline Screams At Boyfriend During Blowout Fight On Premiere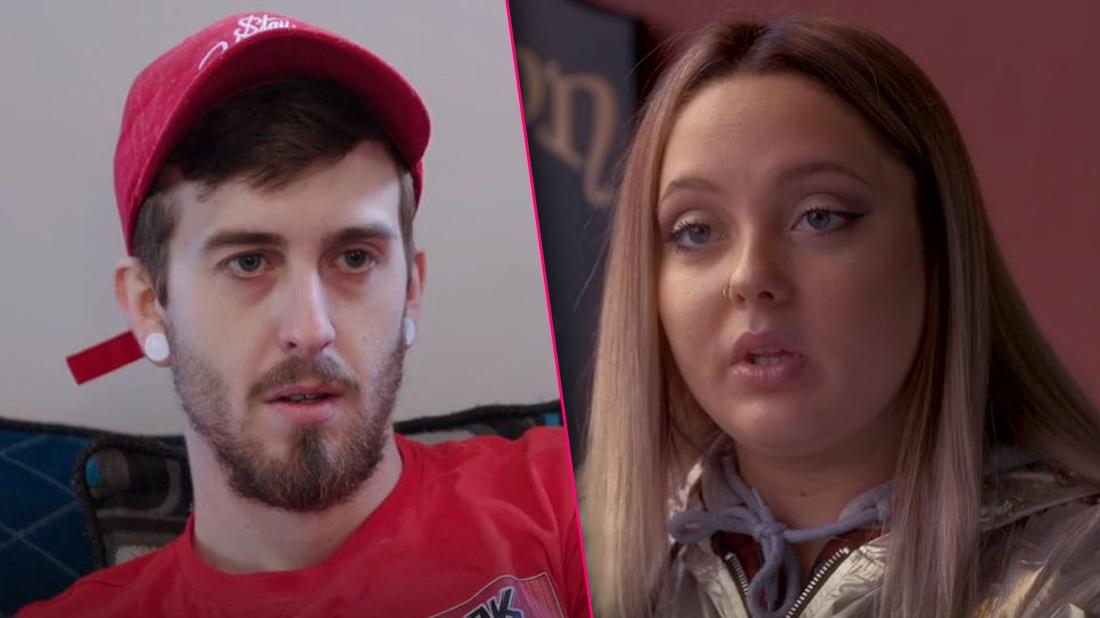 New co-star, new drama! Jade Cline made viewers forget about fired Teen Mom 2 star Jenelle Evans on the premiere episode, as she got into a blowout fight with her baby daddy Sean Austin on their anniversary.
On this week's Teen Mom 2, Jade explained how her on-again, off-again boyfriend "straightened himself out" after he failed a drug test by attending outpatient rehab and getting a new job at a fast food restaurant.
Article continues below advertisement
But while the two were getting ready for their anniversary dinner, Sean accused Jade of going through his phone.
"You called me a liar," she screamed. "He's accusing me of going through his phone when I f**king wasn't."
He fired back, "You were freaking out before I called you a liar. If you didn't do it, you wouldn't have freaked out!"
When the fighting continued outside of their home, Jade called off the anniversary dinner.
As RadarOnline.com readers know, Jenelle was fired from the series when her husband David Eason shot and killed the family dog. Jade was added to the series from the spinoff Teen Mom: Young and Pregnant.
Also on the episode, Chelsea Houska explained how she has had less anxiety since going on medication. But she still struggles, as she was too worried to leave her children Watson, 2, and Layne, 1, home while she and husband Cole DeBoer brought daughter Aubree, 10, to a concert out of state.
Article continues below advertisement
While in the car with her family, she said she is "on the verge of a major panic attack."
"I am not well," she said, as she asked her husband to pull over. "I'm having a panic attack. I'm trying to not... I feel like I can't breathe. I can't even talk about it. I'm not well."
Although medication helped her attack, she told her family she would like to also see a therapist.
As for Briana DeJesus, she praised her baby daddy Devoin Austin of stepping up as a father to their daughter Nova, 7. She even allowed him to have her for a weekend, which is the first time he ever has.
The weekend kicked off with the two going to the father-daughter dance together. The next day, she went to a community pool with her dad.
But when Briana didn't hear from Devoin and was unable to reach him, she went to the pool. When she found them, he was "so f**king drunk."
"I knew something was wrong," she told her family afterwards. "I couldn't get in touch with him. Devoin and the kids were at the pool all day. We go there and he's just drunk… blabbering, dropping his money on the floor. He had his drink in his hand the whole time. Never in the seven years she's been born have I been intoxicated around her. Especially at a pool. What if something were to happen to Nova?"
Article continues below advertisement
Also on the episode, Leah Messer hung out with her ex-husband Jeremy Calvert at the Teen Mom 2 reunion.
While the exes have flirted in the past, Leah ended up getting dinner with him and arriving back in her room at 7am the next morning.
But when her sister Victoria asked if they would ever get back together, she responded, "I would never want to do anything that would hurt daughter Addie if it didn't work out."
And finally, Kailyn Lowry traveled to Mexico with her three sons.
But the trip was stressful for Kail, as she had no one to help her with the boys.
Teen Mom 2 airs Tuesdays at 9/8c on MTV.