Tori Spelling's Bank Court Hearing Delayed As Actress Takes Luxury Summer Vacation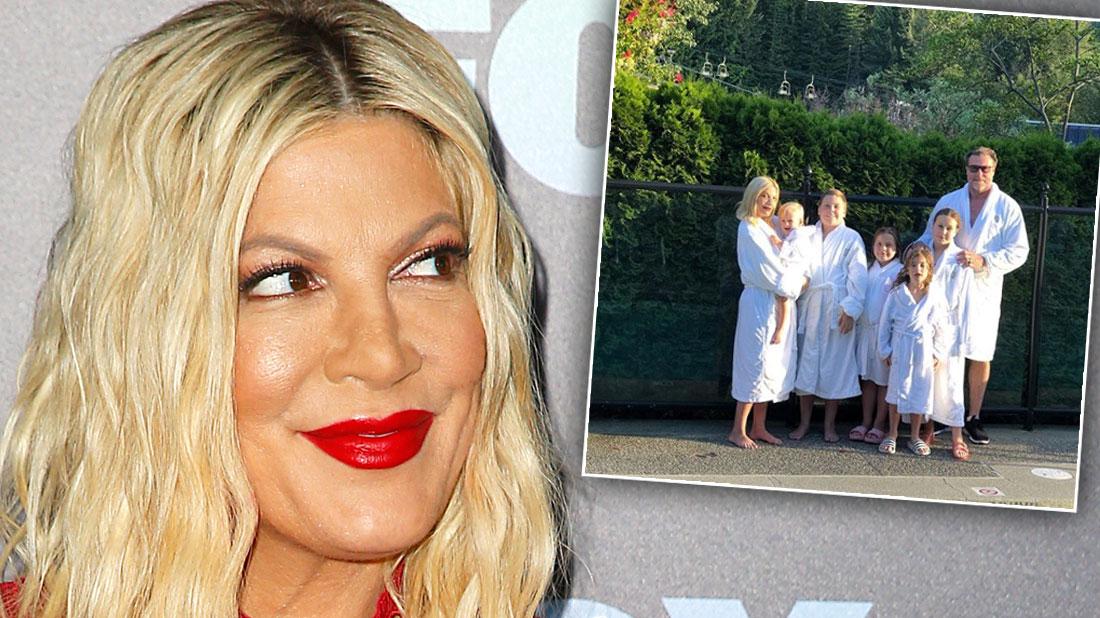 What financial issues? Tori Spelling and her family took a luxury vacation despite her legal woes. Fortunately for the Beverly Hills 90210 actress, she didn't have to fly home to Los Angeles. RadarOnline.com can exclusively reveal her nasty court battle against City National Bank is postponed.
A court hearing was set for Tuesday, July 23 for a judge to either approve or deny Spelling, 46, and City National Bank's request to seal information to protect her Beverly Hills 90210 reboot income and their settlement agreement.
Article continues below advertisement
According to Stanley Mosk Courthouse in Los Angeles, the hearing was not held and has been continued. There is a court hearing scheduled for Friday, July 26.
Spelling posted from the Fairmount Chateau Whistler in Canada with her husband Dean McDermott, 52, and their children Liam, 12, Stella, 11, Hattie, 7, Finn, 6, and Beau, 2.
"Best Summer Weekend at @fairmontwhistlr," she captions photos of her family. "What a fantastic place for families summer and winter! Was here 10 years ago during the winter season and had best time. Now, we were here during summer for the weekend with our now family of 7. What an incredible family and dog friendly resort. Amazing rooms, food, service, pool, and right at the base of the mountain. Can't wait to return!"
As RadarOnline.com reported, City National Bank requests to file unredacted versions of its Ex Parte Application for a Restraining Order and its Motion for an Assignment Order on July 22, 2019.
"The Application, Motion and Exhibits thereto contain confidential information of Spelling, which is subject of a confidentiality provision between the parties, as well as confidential financial information of the Judgment Debtor," the court papers read. "If accessed by the public, potentially may injure the business interests of the Judgment Debtor."
Article continues below advertisement
In the Application and the Motion, City National Bank is requesting an Assignment Order of money due or that will be due as a result of her work in the entertainment industry. The Stipulation for a Protective Order the parties entered prohibits them from disclosing any of the Confidential Information publicly, which is why they are moving to seal the documents.
"If the Confidential Information is made available to the public, it may injure each parties' various relationships with others in the industry, by potentially making it more difficult for Judgment Debtor to obtain work in the industry, or potentially making it more difficult for Judgment Creditor to obtain clients in the industry," the document read.
The parties claim Spelling's acting or entertainment services for pay related to the Beverly Hills 90210 reboot, as well as testimony from Judgment Debtor at any Judgment Debtor Examination regarding the specific terms of such agreement, is considered "Confidential Material" and should be sealed.
In the redacted version of the Ex Parte Application for Order, they are asking the court to prevent Spelling, McDermott, her corporation Toto Entertainment Corp., her talent agent, talent manager and attorneys from accessing her paychecks before the bank is paid.
Article continues below advertisement
City National Bank said, "There is a need to restrain the Judgment Debtor" because they have yet to be paid the $266,022.73 she owes. The bank also wanted the judge to stop anyone from getting her income from the 90210 reboot and other jobs.
As RadarOnline.com has reported, City National Bank sued the couple for failing to pay back the entirety of a $400,000 loan from 2010.
City National Bank accused them of "owing plaintiff an unpaid principle balance in the amount of $185,714.05, plus interest in the amount of $2,407.92 and late charges in the amount of $681.41 for a total of $188,803.38." They also requested the $17,149.09 she withdrew in September 2016.
City National Bank was awarded a judgment of $202,066 against the couple in May 2017.
Interest in the amount of $40,280 was added because she failed to pay, as McDermott has to pay an additional $37,029.
A bench warrant was issued after the mother-of-six failed to appear for a court hearing. The warrant was dissolved in April after she agreed to produce documents and meet with attorneys.