Stars & Fans Slam Kylie After She's Named Forbes' 'Youngest Self-Made Billionaire'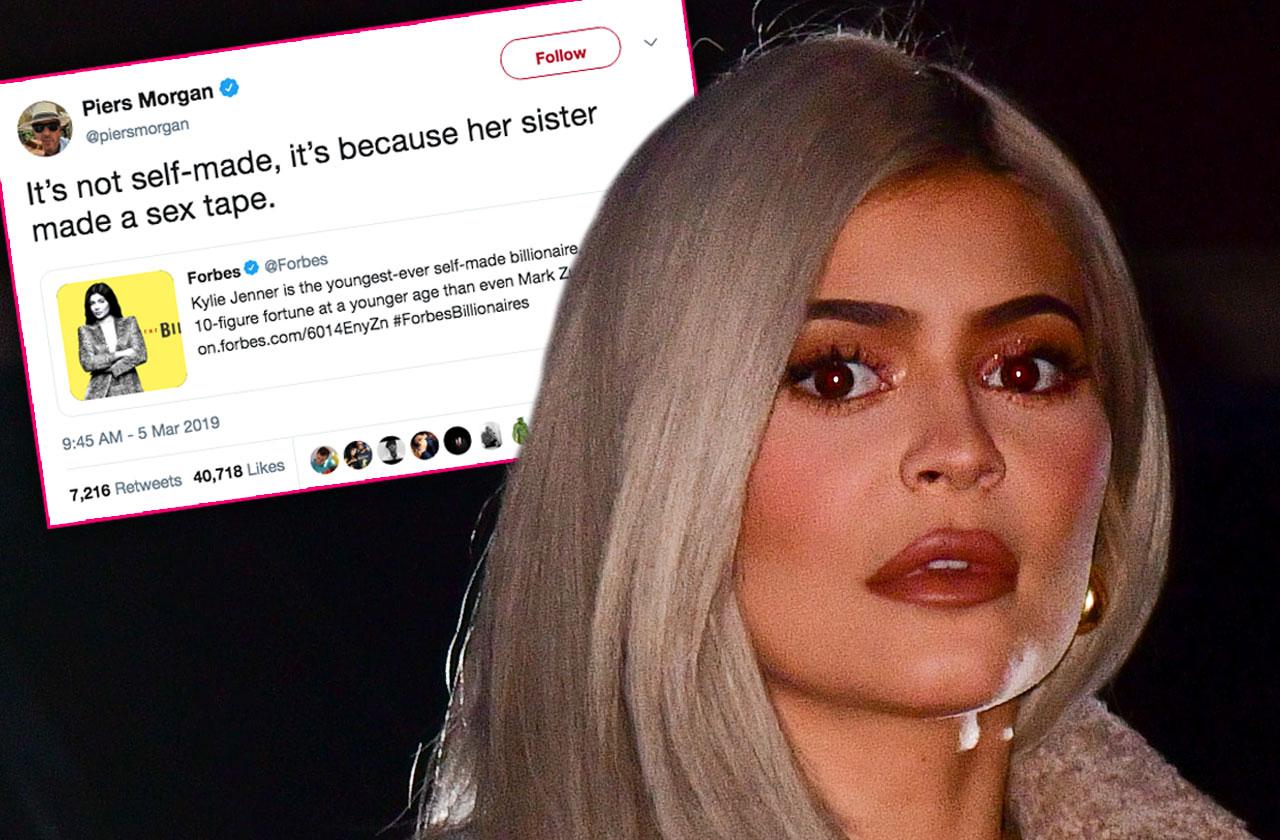 Kylie Jenner has been named the world's "youngest self-made billionaire" by Forbes. With her Kylie Cosmetics empire, growing social media following, reality show legacy and successful clothing brand, the 21-year-old is a force to be reckoned with — but some fans are not buying her latest achievement.
While her sisters, staffers and posse were sure to congratulate the young mom on surpassing Mark Zuckerberg as the youngest billionaire, this Tuesday, March 5, Twitter haters voiced their disbelief, making it clear they are not letting her off the hook easily.
Article continues below advertisement
"It's not self-made, it's because her sister made a sex tape," tweeted Piers Morgan, referencing Kim Kardashian's raunchy video with ex Ray J.
HOTOS: Kylie Jenner Shows Off In Black Bikini
Canadian singer-songwriter Lindi Ortega argued that if Jenner was being called "self-made" then so should the royal family.
"Self made to me implies came from nothing. She capitalized on preexisting fame due to being part of a wealthy socialite famous family. That fame catapulted her success. It's like saying Prince William is self made," she tweeted in response to Forbes' article.
Dictionary.com tweeted some of the cruelest shade. After reposting the magazine's tweet about Jenner, they wrote: "Haven't we gone over this? Self-made: Having succeeded in life unaided."
A Twitter hater argued that Jenner would not be a self-made billionaire if she had been "born into a normal family who had every day jobs just like me and you."
Another one agreed, saying that she was already "extremely famous" before launching her makeup line in 2015. "No matter what she put out, people were going to buy it because she's part of the Kardashian/Jenner clan," the user wrote.
Article continues below advertisement
"Dear Twitter, Kylie Jenner is not self-made. She was a child on a reality show, her father is an Olympic gold medalist, her mother came from a family already famous off the controversy," another angry fan tweeted. "She was raised in the limelight and in wealth. Quit overhyping mediocrity."
RadarOnline.com readers recall that this February, Jenner told Paper Magazine that while she did have fame and A-lister connections before starting her business, she made all her money herself.
"I had such a huge platform, I had so many followers already, and I had so many people watching me," she said. "But my parents told me I needed to make my own money at age 15 - that it was time to learn how to save and spend my own money."
Defending her "self-made" title, she added: "What I'm trying to say is, I did have a platform but none of my money is inherited."
Despite the online hate, some of Jenner's pals couldn't be prouder of her achievement.
Article continues below advertisement
"How could u not be insanely inspired by this legend?" wrote Hailey Baldwin on her Instagram Stories. Anastasia Karanikolaou, Yris Palmer and makeup artist Ariel Tejada agreed.
"A billion is a billion," wrote Basketball Wives LA star Draya Michele on her Instagram Stories. "I am inspired."
"It's been so amazing to watch kylies sic journey. She puts in the work and has built such an epic brand. It's not an easy thing to do. We're so proud of you," wrote celebrity hairstylist Jen Atkin.
Not surprisingly, Jenner's estranged best friend, Jordyn Woods, failed to comment on her new record-breaking billionaire title.
What do you think of the Twitter hate Kylie Jenner is receiving after being named a "self-made billionaire?" Let us know in the comments below.
We pay for juicy info! Do you have a story for RadarOnline.com? Email us at tips@radaronline.com, or call us at (866) ON-RADAR (667-2327) any time, day or night.