Tamar Breaks Down In Tears After 'Celebrity Big Brother' Catfight With Kandi & Lolo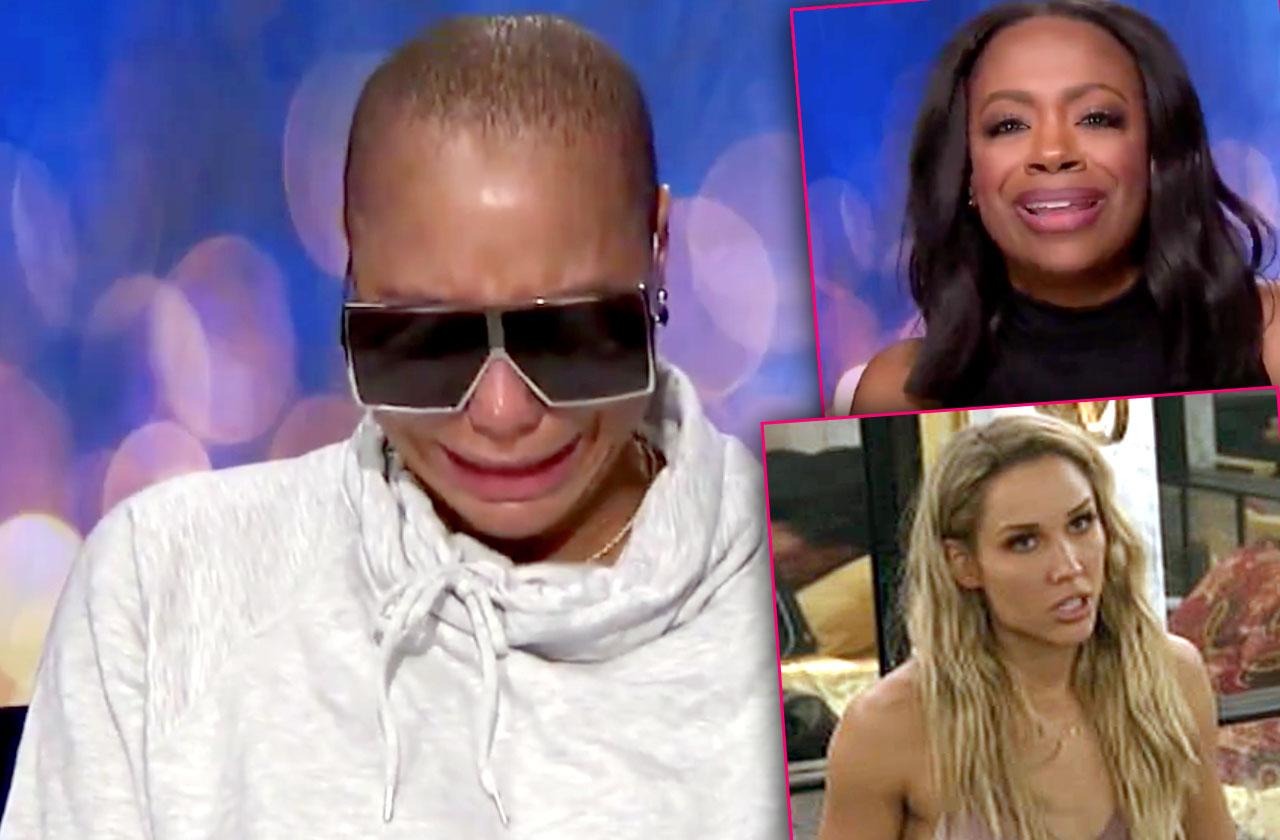 Article continues below advertisement
Though she didn't seem too offended at first, Braxton became enraged when Marie, 34, tried to pretend like they knew she was listening. And her anger only spiked when Jones defended her.
"Oh don't get punched in your throat," Braxton told Jones.
"Punched in my throat? Girl, I can fly, don't fu***ng play with a fu***ng tiger," she replied. "I don't fu***ng play so don't talk about punching me in the fu***ng throat, that's not cool."
As things took an ugly turn, Braxton tried to calm the situation.
"Did we just get serious?" she asked. "Because here's the thing — I was only joking. I say it all the time."
And though Jones was getting ready to fight her pal, Braxton took the high road.
"First of all, I'm not gonna fight because I'm not gonna mess up my face," she joked.
The star then explained herself to Jones, admitting there was no reason for them to argue.
Article continues below advertisement
"I'm not offended y'all got a final-two deal – everybody in this house got a final-two deal and there's 13,000 people in the house," she said. "I thought we was all joking around with each other. I don't have a reason to punch you in the throat Lolo, I like you a lot."
The two made up and hugged it out, but it didn't take long for Braxton to get into another fiery feud.
After getting out of the shower, Braxton and Burruss, 42, got into a conversation about their former disagreements. Braxton accused Burruss of butting into her life, and her frenemy did not take it well.
"It was horrible for me because I was having troubles in my marriage, I was having issues with my career, things were all over the place," said Braxton. "You personally interjected yourself into the situation by talking crazy about me when you should have just said nothing."
As her pal stared at her bewildered, she continued.
"It was totally and utterly disrespectful and unprofessional. Absolutely," said Braxton.
Article continues below advertisement
"What?? Oh my God!" Burruss replied, baffled by Braxton's moody breakdown.
"Whatever she's thinking is clearly a misunderstanding," she said in her confessional, laughing at the absurdity of it all.
Seeing Burruss giggling, Braxton became even more enraged.
"Trying to find out what's funny because it's getting a little disrespectful. I'm trying to tell you how I feel and you're laughing," she said before hiding under her hoodie and rushing to confessional. There, she put on her sunglasses and started hysterically crying.
"This is hilarious to me," Burruss admitted. "The fact that she is trying to make me this villain in her life is totally ridiculous."
What do you think of Tamar Braxton's wild breakdown? Sound off below.
We pay for juicy info! Do you have a story for RadarOnline.com? Email us at tips@radaronline.com, or call us at (866) ON-RADAR (667-2327) any time, day or night.
For the biggest celebrity news stories of the day, controversies, crime, and other hot topics listen to our new podcast 'All Rise' below!