Naked, Scandalous & Hot! Kailyn Lowry's Most Shocking Instagram Scandals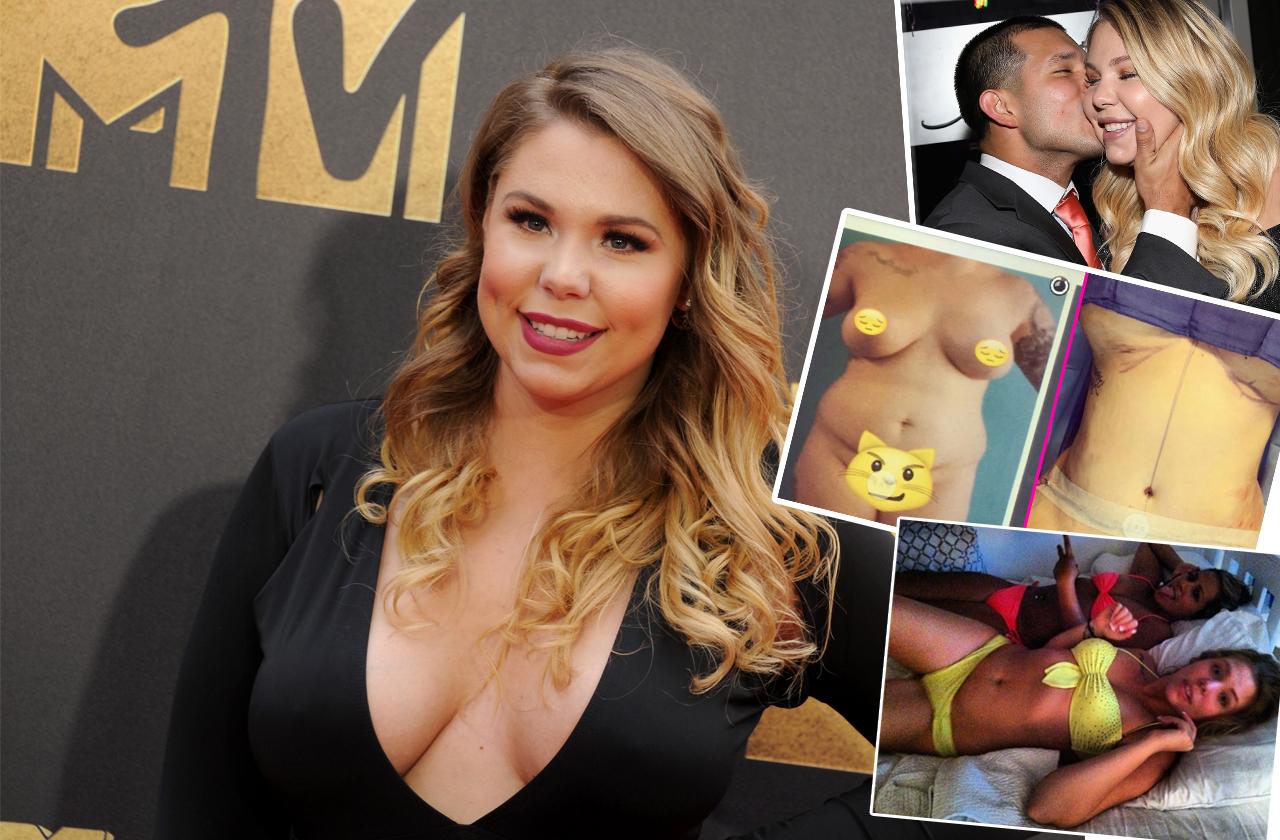 Article continues below advertisement
Temperature-soaring snaps of saucy cleavage on Instagram? Check. Threatening to leak nude photos of her ex-husband, Javi Marroquin? Why not? Revealing her third baby daddy's identity, Chris Lopez, in a 10-word tweet like it's NBD? You bet! Offering some (unsolicited) parenting advice for Kylie Jenner amid pregnancy rumors? Absolutely! Turning her Teen Mom co-star Farrah Abraham into a punching bag over a porn scandal? Bring it on!
1. Bringing Sexy Back: That Head-turning Bikini Snap
Back in July 2012, Kailyn Lowry took to Instagram to show off her enviable post-pregnancy body after giving birth to first child, son Isaac, from then-boyfriend Jo Rivera.
Article continues below advertisement
Lowry looked smoking hot reclined in a yellow bathing suit alongside her friend Gigi Hanna, who flaunted a teeny pink bikini. The sultry photo made quite a splash among her Instagram followers, who praised the reality star for looking "awesome" and admitted she had lost "a lot of weight."
2. Mommy Makeover: Lowry's Plastic Surgery
More than two years after giving birth to Lincoln—from her then-husband Javi Marroquin—Lowry decided to lose some of the stubborn post-pregnancy weight. But after two pregnancies, the combination of diet and exercise weren't her go-to weight loss plan, so the reality star opted for a mommy makeover. Lowry then went straight to Dr. Michael Salzhauer, aka Dr. Miami.
Article continues below advertisement
Dr. Miami offered Lowry a discounted Brazilian butt lift in addition to a tummy tuck, liposuction and, some speculate, a breast implant procedure. The most bizarre thing about Kailyn Lowry's plastic surgery is that it was captured on the surgeon's Snapchat.
Many critics rallied to the reality star's Instagram account to lambaste her for going under the knife, while others were impressed with Lowry's new booty and breasts.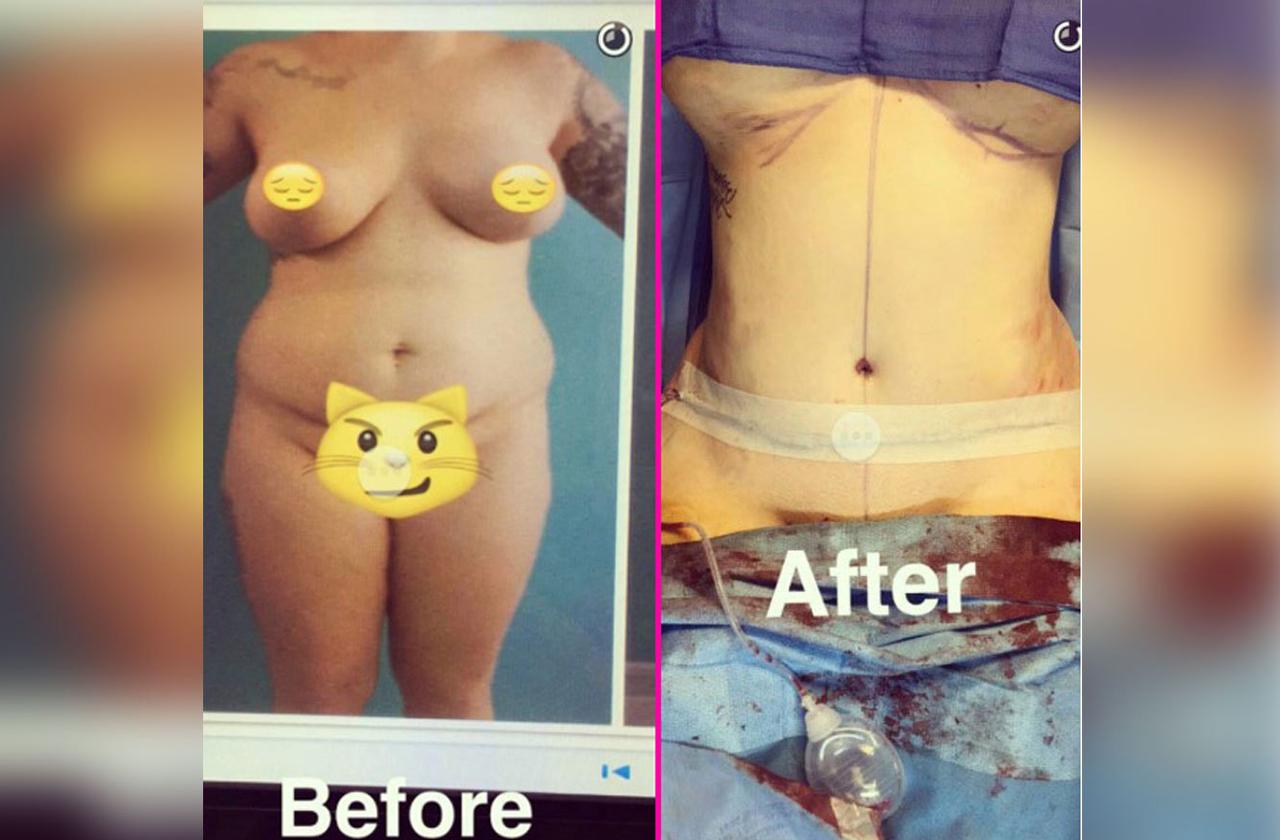 3. Trouble In Paradise: Lowry and Marroquin's Post-Miscarriage Divorce
It wasn't only Lowry's body that went through a dramatic transformation in early 2016, but also her personal life. The reality star announced her split from husband of four years, Javi Marroquin, in May 2016.
Their marriage began falling apart in late 2015 after Lowry suffered a miscarriage. The U.S. Air Force member blamed Lowry for the loss of their child instead of supporting his wife during arguably the most devastating period of her life.
Article continues below advertisement
Lowry and Marroquin finalized their divorce in December 2016.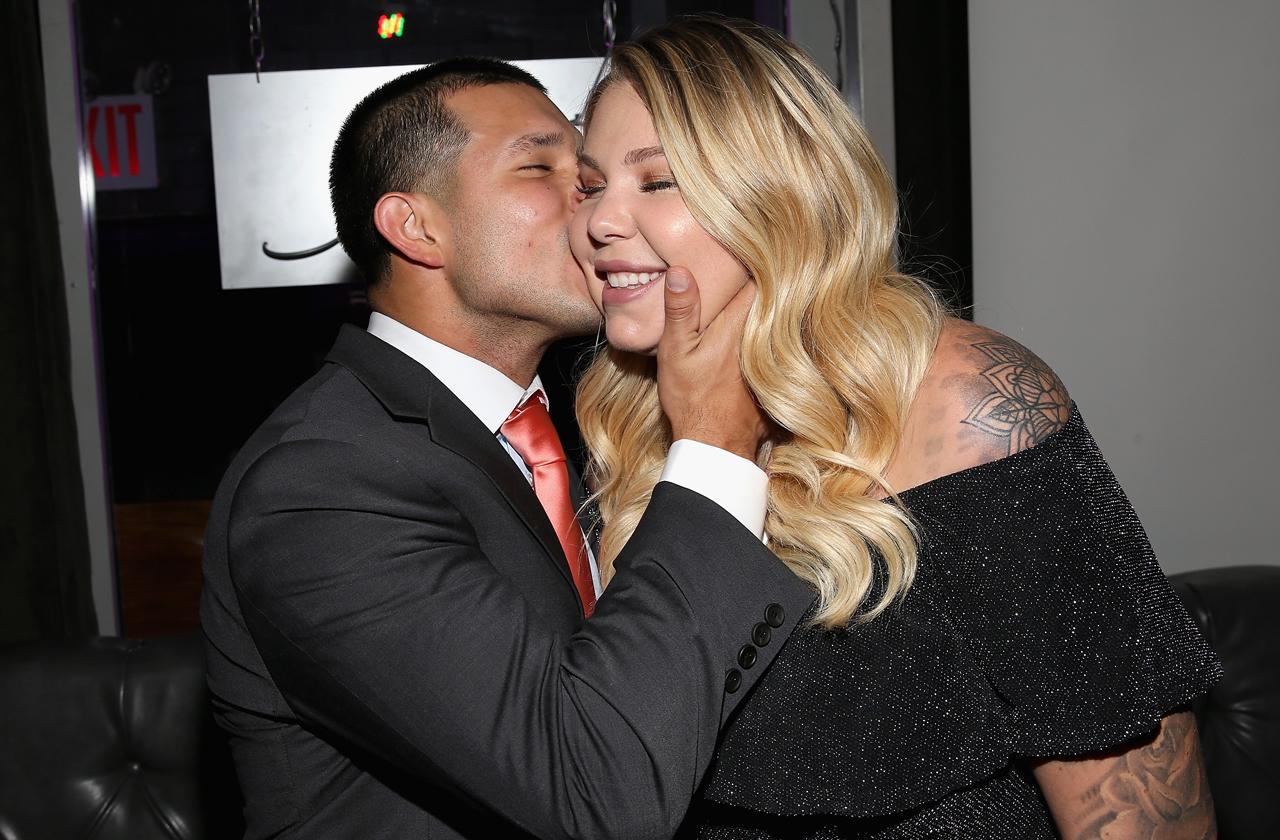 4. Unfaithful: Cheating Scandal and Underwear Photos
Marroquin left for his deployment after his wife suffered a miscarriage. Even though the duo reportedly split before Marroquin's deployment, the Air Force man allegedly cheated on his baby momma in April 2016.
Marroquin set tongues wagging after he accidentally tweeted that he sent his sexy photos to another woman. The tweet caused quite a stir among Teen Mom fans, as they assumed the Air Force man was cheating on Lowry during his deployment before their split.
Lowry was none too pleased when she found out that her then-husband was sending out photos of himself in underwear to another woman. The reality star tweeted at the time, "Borderline inappropriate but it is what it is." The scandal prompted the duo to unfollow each other on social media.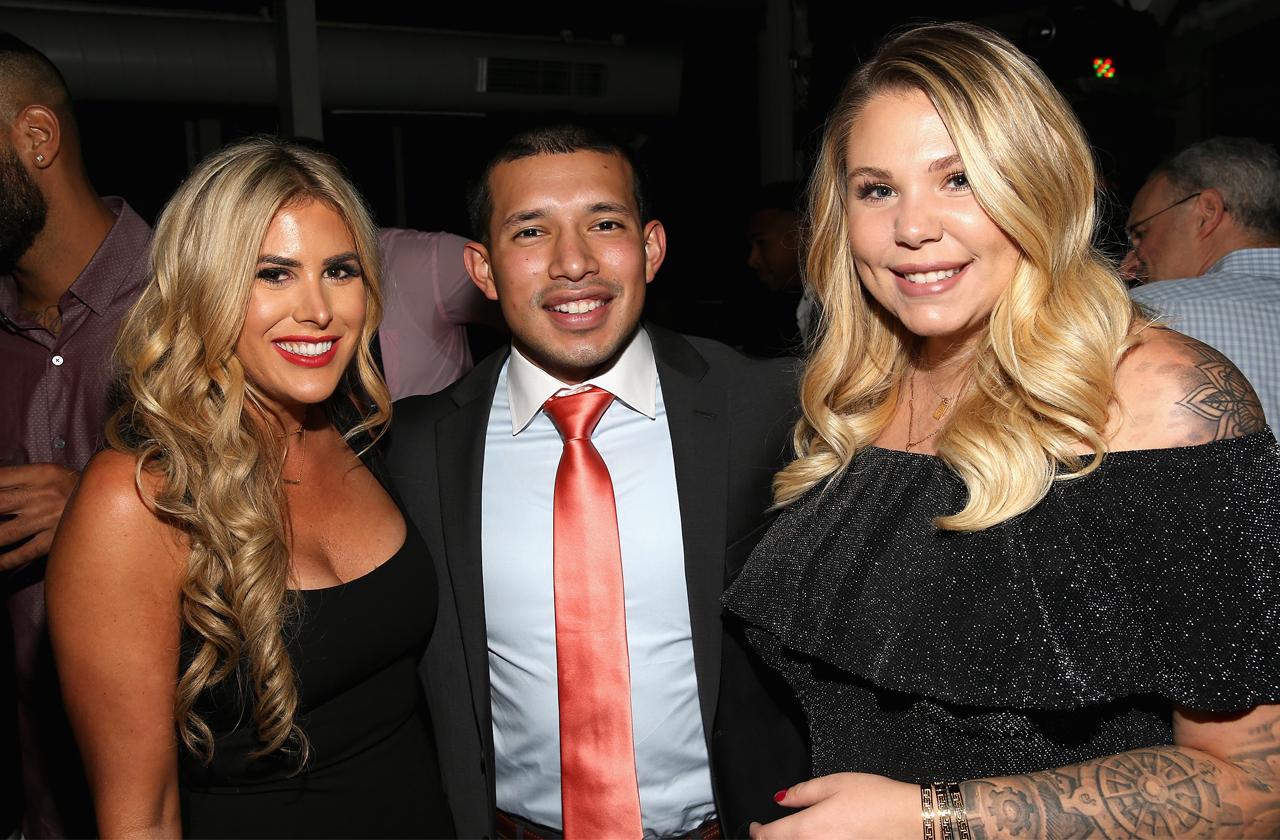 5. I Kissed a Girl: Gay Rumors
But Kailyn Lowry wasn't about to let the divorce ruin her love life, so she went on to hang out with her lesbian friend. The reality star even took to Snapchat to share a photo in which she's smooching her girlfriend on the lips.
Article continues below advertisement
6. "Spreading Legs"
In summer 2016, when Lowry and Marroquin were in the middle of their divorce proceedings, the reality star was accused of cheating.
An intense Teen Mom trailer captured Marroquin's on-air meltdown, when Lowry's baby daddy accused his former flame of having sex with somebody else. "Spreading your legs... that's not a big f**king deal?!" Marroquin screamed at her in the clip.
Lowry was quick to defend herself by saying that they weren't together when she had sex with somebody else.
Article continues below advertisement
7. Toe-To-Toe: Trading Blows Over Their Divorce
As countless paparazzi photos captured both Lowry and Marroquin enjoying their single lives, the former married couple took to Twitter to engage in a heated back and forth.
The parents of Lincoln got into a Twitter spat to hash out the reason they were divorcing. The online battle started brewing after Lowry said during a Teen Mom 2 after-show that she would never get married again, but added that she would have more kids.
Lowry's candid revelations prompted a furious response from her ex-husband, with whom the reality star split after she refused to expand their family. Marroquin responded, "That's funny, I thought we divorced because she didn't want more kids."
Within minutes, the 16 and Pregnant alum hit back and questioned "Why would I want more kids with you" after he blamed her for the miscarriage and for making their marriage "toxic." She then deleted the tweet.
Article continues below advertisement
8. Heartbreaker: Lowry Admits To Cheating With Marroquin's Best Friend
During a Marriage Boot Camp episode, Lowry admitted to cheating on Marroquin with his best friend. Naturally, Marroquin didn't take the news well.
In an explosive clip, the former married couple engaged in a heated fight, with Lowry screaming, "I slept with your best friend!" Marroquin later took to Instagram to describe his former wife's revelation as being "what might've been the hardest experience I've ever been through."
Article continues below advertisement
9. A Bun In The Oven: Pregnant Again
Lowry sent Teen Mom fans into a frenzy in February 2017 when she confirmed she was pregnant with her third child. While the reality star didn't immediately reveal the identity of the father, it clearly wasn't Marroquin.
But Lowry couldn't miss the opportunity to diss her ex-husband in the pregnancy announcement, as their marriage allegedly fell apart over her unwillingness to have more kids.
Foreseeing the headlines that would inevitably follow her announcement, Lowry addressed the issue head-on, explaining that she "didn't want to bring another child into a failing marriage" with Marroquin.
Article continues below advertisement
10. Lincoln In The Middle: Marroquin Threw Shade Over Third Pregnancy
Marroquin couldn't ignore Lowry's pregnancy announcement, so he dissed his ex-wife in an emotional Instagram snap featuring their son Lincoln.
In the caption to the photo, which shows the little boy sleeping, Marroquin wrote, "I'll pick up the pieces for you," what some read as a dig at the boy's mother.
11. It Wasn't Me: Marroquin's Naked Photo Leaked
Lowry and Marroquin reignited their post-divorce saga with cheating accusations… again. Just when you thought Lowry would put the intense drama to rest—at least while expecting her third child—she didn't let her ex-husband off the hook for allegedly cheating on her during their marriage.
In one of the episodes of Teen Mom 2, Lowry accused her ex-hubby of leaking details of her pregnancy, and blasted him for being unfaithful during their marriage.
Article continues below advertisement
The reality star even threatened to leak a nude photo of Marroquin, which was allegedly sent to her by a third party. The naked photo eventually leaked, showing a man on a bed with his legs and penis exposed.
Marroquin unleashed fury on social media over the leak but vehemently denied that the dude in the viral nude photo was him. Marroquin denied it was him, telling RadarOnline.com "Someone reversed image searched it and it's not me."
However, Teen Mom fans weren't eager to take the Air Force man's word for it, as they noticed a striped blue shirt in the background. Fans were convinced it was the same striped blue shirt Marroquin has been spotted wearing in public.
Lowry then fired back at Marroquin and insisted that the man in the viral photo was the father of her son. She further threatened to leak naked pictures of her ex-husband getting intimate with "someone else" during his deployment overseas.
Article continues below advertisement
"I could literally show videos of Javi doing things that he shouldn't be doing," Lowry blasted, threatening to air all of Marroquin's "dirty laundry."
12. Who's Your Daddy? Marroquin Worried About Paternity
Lowry's choice to keep the identity of her third baby daddy under wraps frustrated not only her fans, but also Marroquin, who was worried the legal responsibility of the new baby would fall on him.
So the Air Force member got armed to the teeth with a team of legal professionals to prevent Lowry from naming him as the father of her third child in the birth certificate.
Article continues below advertisement
Marroquin's preparedness to take legal action was not bizarre or groundless—the law states that the ex-husband is legally named the father of a baby if the child is born less than 300 days after a divorce.
13. Like It's NBD: Third Child's Paternity Revealed On Social Media
But Kailyn Lowry eventually put her ex-husband's concerns to rest and stopped keeping secrets from the media.
And what better way to announce the big news than on social media? The reality star confirmed in a tweet that Chris Lopez was the one who fathered her third child.
Lopez had been hinting that he was the father of Lowry's third child for months, so fans weren't exactly surprised even though Lopez is the Teen Mom star's friend and the duo have never even dated.
Article continues below advertisement
Besides, Lowry had further hinted at the baby's paternity on Snapchat when she posted a photo of her bump and wrote in the caption "baby lo."
14. Nailed It! Lowry Responds To Fat Shaming
Despite a flurry of opposition from body shamers on social media, Lowry has never shied away from sharing her naked photos on Instagram, Snapchat and Twitter.
In fact, the reality star is known for quipping back at her critics. In May 2017, Lowry didn't hold back when responding to a fat shamer, who appeared to be her nemesis, Farrah Abraham's ex-boyfriend Simon.
Article continues below advertisement
15. Boobalicious! Lowry Shows Off Saucy Cleavage
In the face of body shaming, Lowry shared a photo of her eye-popping cleavage. In July 2017, the reality star posted the chest-baring pic—a throwback pic of her at the 2016 MTV Movie Awards.
16. Sun-Kissed: Lowry Puts Her Bikini Body On Display
Kailyn Lowry's Instagram feed went into overdrive in summer 2017, when the Teen Mom star shared bikini snaps from her family vacation to Virgin Islands.
The reality star stripped down to take a couple of bikini shots to show off her growing baby bump.