Former SeaWorld Trainer Blasts Park For Alleged Whale Abuse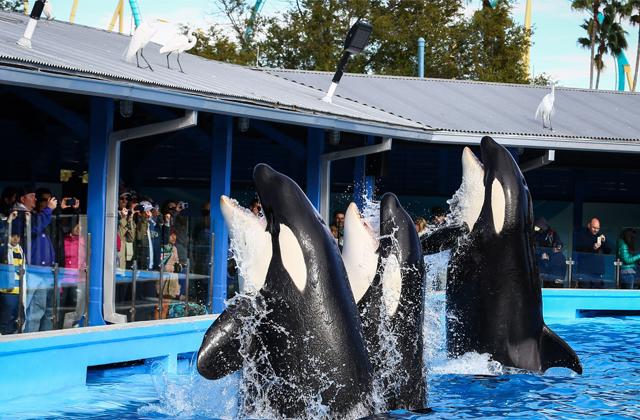 Ex-SeaWorld trainer John Hargrove is blowing the whistle on the famed animal theme park, saying killer whales are mistreated there, according to an explosive new report in the Mail on Sunday.
Hargove, who quit his job in 2012 after being a SeaWorld trainer for 14 years, is determined to expose the San Diego theme park for its malpractices.
As the Mail reported, the former trainer claims the animals are kept in tanks that are too small and become violent and develop diseases they would never get in the wild, among other charges.
Article continues below advertisement
SeaWorld has denied Hargrove's assertions, saying they are a "miscalculation" and they are committed to the animals' welfare.
However, Hargrove was crying as he said in an interview, "What continues to go on in parks like SeaWorld is an abomination.
"They claim captive orcas help educate people, and for years I bought into it. But one of them named Kasatka lived in misery, in barbaric and horrific conditions, and died in agony. She lived out her days in a house of horrors – and I was complicit in selling the lie to the public."
Article continues below advertisement
PHOTOS; Check Out The Variety Of Wigs For The Fashion-Conscious Canine
Then last month, Kyara, a three-month-old orca that was born under the park's now-defunct breeding programme, died from pneumonia.
Kasatka had to be put down last Tuesday.
"In the wild, orcas rarely show aggression towards humans. But I lost count of the attacks I witnessed and suffered first-hand," Hargrove said.
"I've been butted against the side of the pool, grabbed by my torso and dragged down. I'm amazed I'm still alive.
"These animals are trapped, frustrated, unhappy. Of course they take it out on humans they come into contact with. Being in a tank for years on end wrecks them mentally."
Hargrove said, "They chew the metal bars separating the enclosures, they grind their teeth on the concrete sides of their holding pens."
SeaWorld has staunchly denied claims of cruelty and put a statement last week on the death of Kasatka, paying loving tribute to the orca.
But Hargrove claimed, "She suffered unbearably so that kids could watch her do tricks and SeaWorld could get richer."
We pay for juicy info! Do you have a story for RadarOnline.com? Email us at tips@radaronline.com, or call us at (866) ON-RADAR (667-2327) any time, day or night.