Farrah Abraham Breaks Down Over Childhood Abuse, Father's Abandonment On 'TMOG'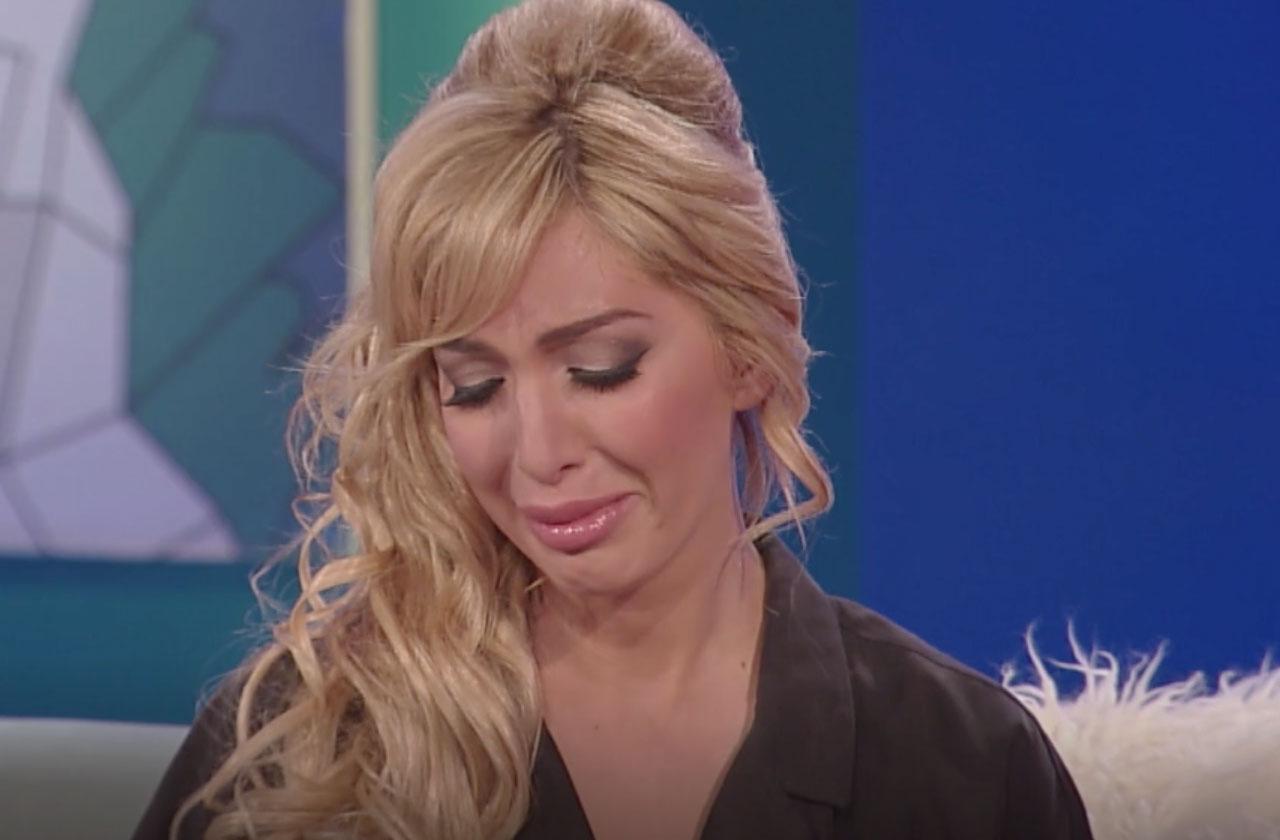 Farrah Abraham broke down over the abuse she endured as a child on the Teen Mom OG reunion, but her mother is denying any wrongdoing. On part two of the special, Debra Danielsen insists Abraham wasn't physically abused despite her daughter's claims.
Abraham, 25, explained how her relationship with her mother continues to be rocky because she doesn't get along with her fiancé David.
"That was the second or third time that I attempted to reconcile," she told reunion show host Dr. Drew Pinsky. "I tried to talk to him previously, but if someone can't communicate, engage, be loving, be kind or be part of a family, then that's his own fault."
Article continues below advertisement
She added how David continues to act "hateful" and is "irrelevant" to her life.
When Dr. Drew began to ask about her relationship with on-again, off-again boyfriend Simon Saran, she said that they're "friends" and are "cordial" with each other.
But when he tried to ask about Saran demanding $250,000 to appear on the reunion and about a recent off-camera date, she refused to answer and stormed off stage.
When she returned, she continued to talk about her mother and their estrangement.
"I'm speaking from aggravation," she said. "I think of the times where it feels like my arguments or fights are wasted energy that has held me back in certain ways. Over the years, I continue working on how I want to invest in myself and my therapy."
When Dr. Drew asked about the abuse she faced as a child, she broke down in tears.
Article continues below advertisement
"To understand someone's background or upbringing or interaction with their parents or family… I don't feel like talking about it," she said. "I've talked about it so much."
Dr. Drew then calls her father Michael on stage, as he explained what he did to contribute to her trauma.
"In Farrah's book, she talks about the conflict of Debra and my marriage," he said. "She said, 'I wish they were divorced so there wouldn't be fights.' I thought, 'I'm going to stay until she's 18 and do it right,' but that was a mistake on my part. I would go to work to avoid the conflict, and that was abandonment on my daughter."
But when Danielsen hit the stage, she denied abusing her child.
"There was no trauma, there was no abuse, none of that went on," she said.
When Dr. Drew brought up the 16 and Pregnant scene where she hits her daughter in their car during an argument, she responded, "I sat there for an hour being mentally and emotionally and verbally abused. I asked her repeatedly to stop it and she would not. I didn't even hit her, I hit her shoulder, I know I hit the seat. She got abusive."
Article continues below advertisement
Also on the special, Catelynn Lowell talks about the scene where Amber Portwood's fiancé Matt Baier, who is a former addict, gives her Xanax.
"I was mentioning I'm having a panic attack and all of a sudden Matt is like, 'Let's keep this between me and you' and he hands me this bar," she said. "And I stuck it in my hoodie pocket. I didn't take it. I know his past and Amber's past so I was like why the f**k does he have it?"
She then explained how he seemed high during the trip.
"Amber started asking questions like, 'Why do you look so high? Why are you wobbling around in front of me?" she said.
When Baier convinced Portwood he was just tired, Lowell told her the truth. But she then explained that when she went to show her the pill, Baier had "purposely" taken her hoodie to "hide the evidence."
Also on the episode, her husband Tyler Baltierra gave an update on his dad Butch, who has been in and out of prison over the years.
Although he has relapsed on crack cocaine "a couple of times," they still trust him with their two-year-old daughter Novalee.