Bethenny BEGS Luann To Leave Tom: 'You're Making A Big Mistake!'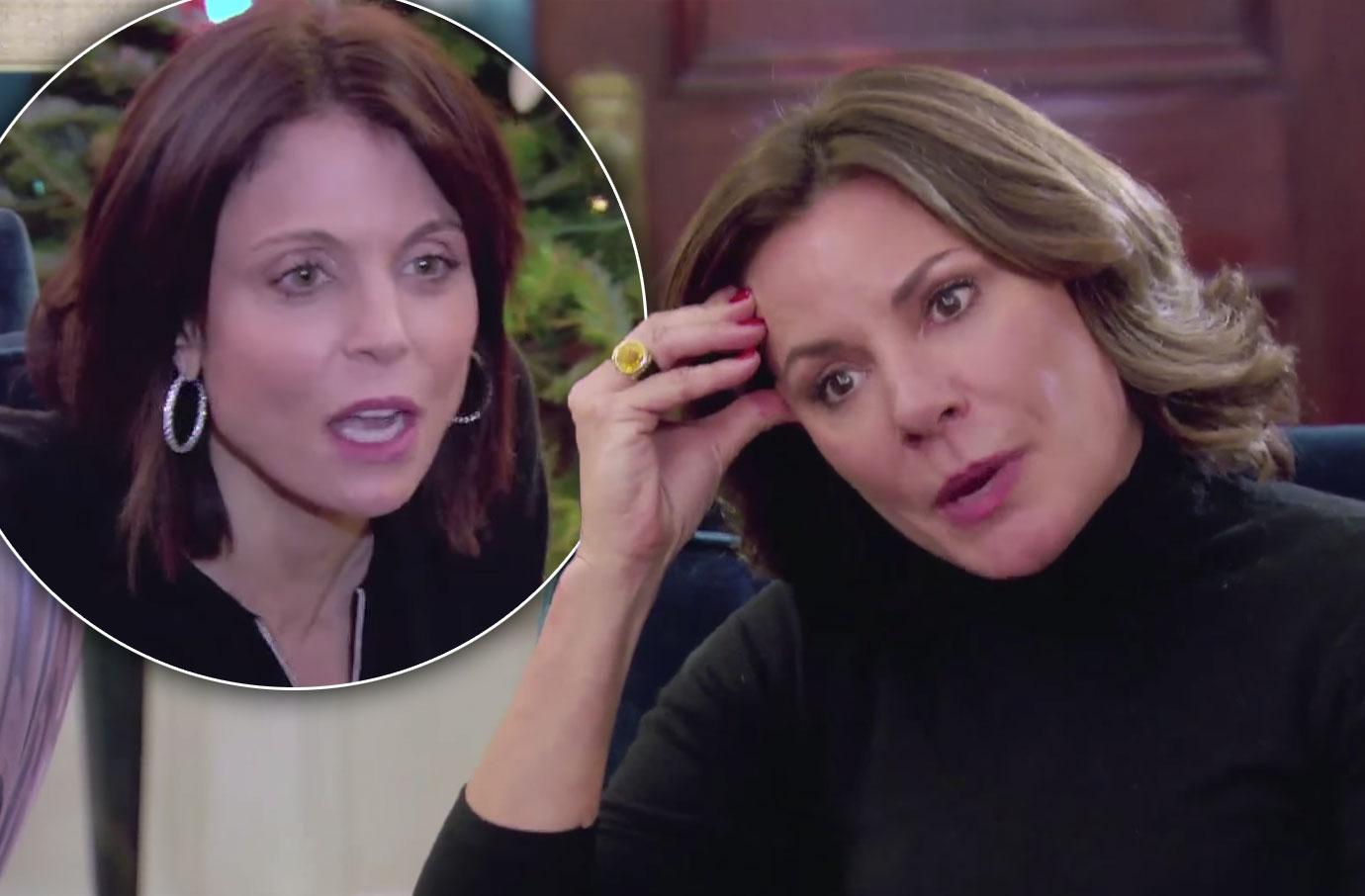 Luann D'Agostino is marrying Tom, whether her cast mates support her or not. That was the lesson the women learned on last night's episode of The Real Housewives of New York City when they all gathered in Dorinda Medley's Birkshires living room and tried to convince the Countess that Tom was a man who is not to be trusted.
"If you see red flags, you might want to run," Bethenny Frankel said of Tom's multiple rumored affairs. "And I guess we all just want to hit her over the head with a baseball bat one last time to make sure she's really sure."
Article continues below advertisement
Despite the ladies' efforts, Luann wouldn't hear the women's accusations against her future husband, who was once caught on camera kissing another woman while she was out of town.
"I wouldn't walk down that aisle unless I was 100%," Luann insisted. "Did he make a mistake? Yes. Am I confident that that is not gonna happen again? Absolutely."
Bethenny admitted she thought it was more than just love and trust keeping Luann so loyal to Tom.
"I don't think Luann's thinking about love and compassion. I think Luann's looking at Palm Beach and penthouses and parties," she said. "Luann hasn't said, 'It's all not true and it's not happening.' Luann's like, 'Stop talking about it.'"
While the ladies found it hard to believe that Luann was totally confident in Tom's fidelity, they agreed to let the subject drop. But Luann's blind optimism had an unlikely effect on Bethenny, who couldn't help but be reminded of how her own hope for a fairy tale marriage led her to a nasty, volatile divorce with ex Jason Hoppy.
Article continues below advertisement
As Luann told fellow cast mate Tinsley Mortimer to follow her heart and instincts when searching for a husband, Bethenny couldn't hold in her cynicism.
"Luann, my heart and gut and instinct got me in the f*****g toilet bowl," Bethenny said, describing her divorce as "the worst situation of my entire life."
Luann tried to make Bethenny see the good in her marriage — like the birth of her daughter Brynn — but Bethenny wouldn't hear it. "I'm in g*****n hell," she snapped before leaving the room.
When Luann went after Bethenny to apologize for upsetting her, Bethenny broke down. She couldn't stop crying as she begged Luann not to make the same mistake she did.
"I think you're making a big mistake…I think he's cheating on you…I don't think your guy's a good guy," she said through her tears, before adding, "At the last minute, I wish someone had pulled me out of my wedding."
Meanwhile, Carole revealed to the other housewives that Bethenny's ex has been harassing her by sending her nasty emails and calling her a terrible mother. "I sometimes feel hopeless. I sometimes feel my ex is untouchable and I'm not gonna be able to get out of this," Bethenny confessed.
Article continues below advertisement
Unfortunately for Bethenny, her tears did little to change Luann's mind about Tom. "I think Bethenny is dealing with her own issues with her ex, and she's projecting them on me," Luann said.
When Bethenny finally collected herself, the ladies gathered for dinner, where everyone agreed Ramona was acting even stranger than normal.
"This is Ramona off the Richter scale crazy," Sonja Morgan said.
In her odd state, Ramona tried apologizing to Bethenny for dragging her then six-year-old daughter into a conversation about Bethenny's topless scene in a decades-old film. When Bethenny accused Ramona of not being a good friend to her, Ramona went off the rails.
"Are you kidding me?" she yelled at Bethenny not once but four times. And just like last week, "To Be Continued" flashed across the screen.
No one is safe in the Berkshires.
Do you think Luann really trusts Tom? Are you surprised Bethenny broke down over her divorce? Sound off in the comments below!
We pay for juicy info! Do you have a story for RadarOnline.com? Email us at tips@radaronline.com, or call us at (866) ON-RADAR (667-2327) any time, day or night.