Exclusive
'Mom, He Raped Me!' Chilling Testimony Of Alleged Cosby Victim's Mother Rocks Court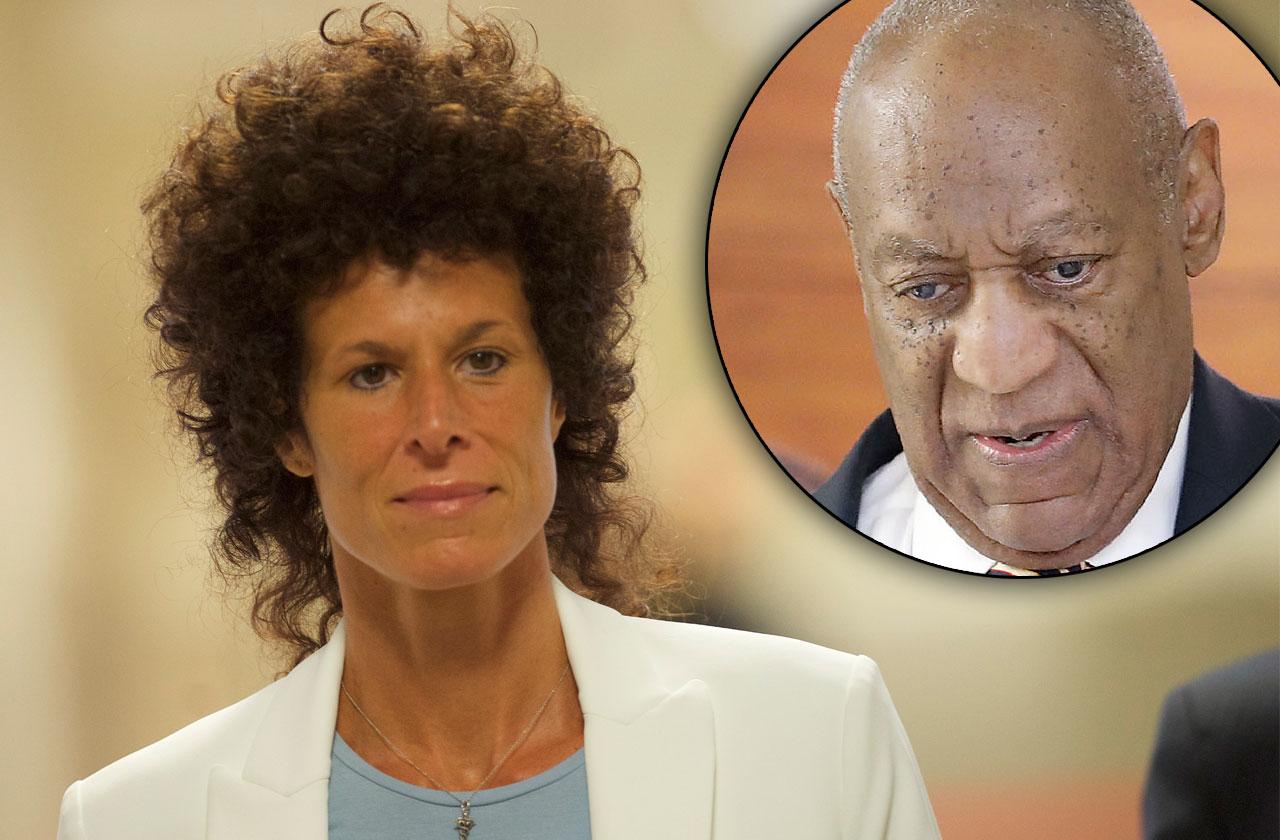 Article continues below advertisement
According to Watts, Gianni began by describing how her daughter Andrea's behavior began to change around 2004 – the year that Constand says Cosby sexually assaulted her.
In particular, Temple University employee Andrea was having a lot of nightmares, Gianni said, claiming she would wake up screaming and in a sweat. Gianni would notice Andrea was more nervous and twitched and would appear "spaced out" at times.
"I would ask her Andrea, what are you thinking about?" she said.
Then in January 2005, Gianni said she got a phone call that changed everything: She testified that Andrea said, "Mom I think I have PTSD … Mom he raped me…"
When told Andrea was talking about Cosby, Gianni said she erupted.
"My reaction was, I was very upset and angry," she told the courtroom. "I said Give me his phone number, I'm gonna call him. I was worried he might do something to our family."
Article continues below advertisement
Gianni said she even threatened Andrea, saying, "If you don't give me Mr. Cosby's phone number, I'm gonna get on the next flight to go see him."
Andrea did, and Gianni called Cosby and left a message, asking him to call her back.
Cosby did indeed call back, and a nearly three-hour conversation ensued.
"I was really angry and just in another state of mind…" Gianni said, claiming she asked, "What medication did you give to my daughter, and why, when my daughter was sick from why didn't you call 911? My daughter could have died."
"He said he couldn't read the label and would have to go upstairs to read the prescription bottle, and he said he would mail it to me so I gave him the address," she testified.
"And I said, 'Promise me you are gonna send me the name of the medication and he said yes."
According to Gianni, Cosby then requested she put Andrea on the phone, and all three of them stayed on the call as he said, "Andrea, let's tell your mother what happened."
Article continues below advertisement
Gianni testified, "I learned what happened to my daughter from the defendant, not from my daughter."
Cosby "said he was touching her breasts," Gianni testified. "He called me 'mom' throughout the entire call and said, 'Don't worry mom, there was no penile penetration. It was only digital.'"
Gianni even claimed that Cosby said, "I feel bad telling you this, I sound like a perverted person."
"He admitted he was a sick man," she claimed, saying he even asked how he could help Andrea heal and offered to pay for her therapy.
Gianni said she declined his offer, saying, "The only thing I would like from you is an apology."
She told the court that she got it.
But still, she said, "I wished I had recorded that call." So she contacted her son-in-law, who was a cop, and other local police officers for advice. The next day, she bought a recording device and waited to see if Cosby would call back.
He did.
In the first recorded call played for the jury between Gianni and Bill Cosby, courtroom reporter Watts told RadarOnline.com, Cosby is heard inquiring about Andrea's interest in sports broadcasting, seemingly offering to help her on her way, and to pay for her schooling. Gianni said she would speak with Andrea, and Cosby said he would call the next day.
Article continues below advertisement
"Cosby was clearly in damage control, on these very damaging recordings," Watts said.
Gianni testified, "He thought he had fixed this, but I still wanted to know what he had given her."
Breaking down in tears, she told the courtroom, "They were good friends. She viewed him as a father, a mentor. He was 10 years older than her father. The fact that he did that to her, that he drugged her, he betrayed her…"
In the cross-examination, "Andrea's mom was sharp-tongued with the defense, remind them that the sex wasn't consensual," Watts told RadarOnline.com.
Eventually, Watts said, "The defense quickly cut their losses and closed. Mom won that round."
Check back with RadarOnline.com for more from the court tomorrow.
We pay for juicy info! Do you have a story for RadarOnline.com? Email us at tips@radaronline.com, or call us at (866) ON-RADAR (667-2327) any time, day or night.