'Get The F**k Out!' The Moment Kim Kardashian Kicked Scott's 'Tramp' Out Of Their Hotel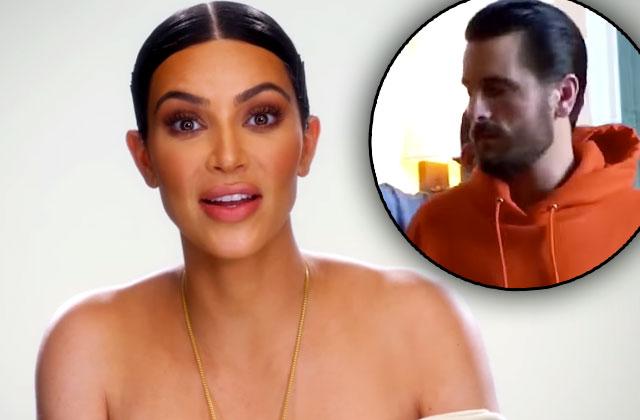 Scott Disick ruined his chances of getting back together with Kourtney Kardashian for a one-night stand. On this week's Keeping Up With the Kardashians, Kim Kardashian caught a woman in Scott's room while in Dubai.
Scott revealed that his relationship with Kourtney has improved since he was caught on camera getting cozy with an ex-girlfriend while on vacation in July 2015.
"Kourtney and I have been spending a lot of time together," Scott, 33, said of their vacation to Aspen with their children Mason, 7, Penelope, 4, and Reign, 2. "It was the first trip I've had in a long time where we were actually a family and it felt like the old days. All Kourtney ever wanted from me was to be sober and healthy."
Article continues below advertisement
During Scott's trip to Dubai with Kim, he learned from a friend that Kourtney has been seeing another man.
"This is like probably the worst thing I could ever hear," he said in his confessional. "I don't think she realizes a friend of mine saw her. She blatantly lied to me. I feel like everything I've been working so hard for is done now."
Despite being sober for four months, Scott went out drinking with friends.
Article continues below advertisement
"Security just texted me that Scott is drunk at the hotel," Kim, 36, said. "I think this has a lot to do with what he thinks Kourtney is up to."
When she told Kourtney over the phone, she explained how Scott is not her problem anymore.
Although Kourtney denied the relationship to Scott, she defended her actions to Khloe Kardashian back home.
"While he's showing his consistency I have to live my life and make myself happy," she told her sister.
But the drama didn't end there, as one of Kim's friends found a purse in Scott's hotel room.
"What the f**k. This cannot be," Kim said. "Something is up. Scott is like pacing. Something came over me that I was like he has a f*****g girl hiding somewhere and we're going to find her."
As Kim went downstairs, Scott told a producer, "There's a girl downstairs. I'm gonna have a heart attack. This is going to be really awkward."
Article continues below advertisement
As Kim looked through the hotel room she screamed, "Do you think we should bang down the bathroom door and see what f*****g whore is in there? Should we go in and scare the f**k out of her? Cause the bathroom is locked I'm not f*****g stupid."
When Kim opened the door she saw the woman and fired, "What the f**k are you doing in here? Seriously? You're just like a f*****g w***e. Such a tramp. Get your s**t and get the f**k out of here. Groupie. Get your s**t and security will escort you the f**k out of here."
But dealing with Scott's drama wasn't Kim's only battle during the trip, as she had trouble returning to the spotlight after she was held at gunpoint and robbed in her Paris hotel in October 2016.
While out to dinner, Kim began to panic when she noticed other guests taking photos of her. It only got worse when Kim went shopping, as photographers took photos from outside a store window.
"This is what I was afraid of, this feeling of panic," she said. "I'm afraid of everything. With so many people gathering and then they start social media... Other people know exactly where I'm at."
Article continues below advertisement
When Kim prepares to hit the stage for the makeup tutorial, she questions whether or not she should leave the industry for good.
"After Paris I feel like, is this really what I should be doing?" she said. "Is it worth it for me to have all this anxiety? I just don't know if I even want to do this anymore."
But Kim got comfortable once on stage.
"I'm really glad that I pushed myself to be here," Kanye West's wife said. "The only way you could overcome anxiety is to face it."
Back home in California, Caitlyn Jenner invites daughters Kendall and Kylie to go with her to buy horses for a barn she built at her Malibu home.
Although Kendall, 21, showed up, Caitlyn, 67, couldn't stop asking about Kylie, 19.
"I get my dad misses hanging out with Kylie, but I do make an effort to come hang out with her," Kendall complained in her confessional. "She's obsessing over Kylie and ruining the time we have together."
Article continues below advertisement
When Caitlyn visits Kendall at her home, she complained that Kylie constantly cancels on her.
Kendall fired, "You talk about it a lot, don't you? I'm here. I'm not good enough? You keep complaining and it makes me not even want to be around you."
Caitlyn responded, "I get insecure at times with all the kids and everything I've been through. Even with all my insecurities you've always been there for me and I appreciate that."
Keeping Up With the Kardashians airs Sundays at 9/8c on E!.