Yoga-Twin Murder: Sister Awaits Trial In Shocking Case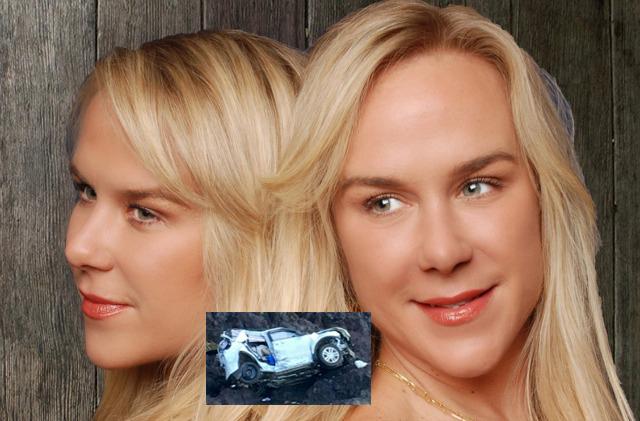 Alexandria Duval murdered her identical twin sister Anastasia Duval in a fit of rage, and drove their SUV over a Hawaiian cliff and onto the rocks hundreds of feet below! That's the explosive claim of prosecutors, who are taking her to trial nearly one year after the unbelievable incident unfolded.
Currently free on $200,000 bail, posted by her father, Alexandria maintains that she's not guilty of the charges, brought by Maui prosecutors following a long investigation of the May 29, 2016, crash.
Article continues below advertisement
"It's a strong case," former Honolulu prosecutor Peter Carlisle told People magazine. "She was driving. She was in control, and she went off the cliff. All these facts are critical."
Alexandria's attorney, Birney Bervar, told People that his client "is devastated by her loss," and insists that "this was a tragic accident."
The 37-year-old pair had been inseparable before that accident, driving matching Porsches, finishing one another's sentences, and launching a series of Twin Power yoga studios in tony Palm Beach, Florida before moving on to equally upscale Park City, Utah.
Article continues below advertisement
Who Killed Caylee? Cops Release New Casey Anthony Investigation Details
They even changed their names together. Brought up in a quiet town outside Albany, NY, as Alison and Ann Dadow, they had changed their names to Alexandria and Anastasia Duval when they resurfaced in Hawaii.
Fashioning themselves as the "terrible twins" of yoga, they indulged in shopping sprees and even hatched plans for a reality TV show.
But the name change couldn't hide the history of substance abuse and financial problems that trailed the pair. They shuttered their studios and bolted Florida without paying employees or reimbursing clients, and each declared bankruptcy in late 2014 before leaving Utah for Hawaii.
Mother Of Kidnapped Sherri Papini Claims She Once Blamed Her For Self-Harm Injuries
Partiers since their days at Notre Dame High School in Utica, NY, the teenage duo reportedly enjoyed smoking cigarettes and marijuana and drinking heavily. Police records indicate that the pair's move to Utah failed to provide a clean break.
Article continues below advertisement
Ann's record shows a 2014 arrest near Ogden, Utah for public intoxication, assault on a police officer, disorderly conduct and interfering with an arrest. Alison's Utah record includes arrests on suspicion of DUI, fleeing the scene of an accident, driving without insurance, disorderly conduct and public intoxication.
Once, officers responding to a crash scene found the sister's vehicle in a ditch, where they were fighting and pulling each other's hair.
"They would really get into it," Keith Weiss, an old boyfriend of Ann (Anastasia), told People.
JonBenet Ramsey Suspect Confesses! His Sick Crimes Exposed In Court
"I remember this one time, the three of us were at the mall, and Ann smacked Alison in the back of the head. Hard. They raged. They went back and forth with each other, pulling hair, pinching each other," Weiss recalled. "It was as if they had blocked everything out around them."
Opening arguments in Alexandria Duval's trial for the second-degree murder of her sister Anastasia are slated to begin this fall.