'You Were Suicidal!' Kardashians Fear For Rob After Violent Brawl With Blac Chyna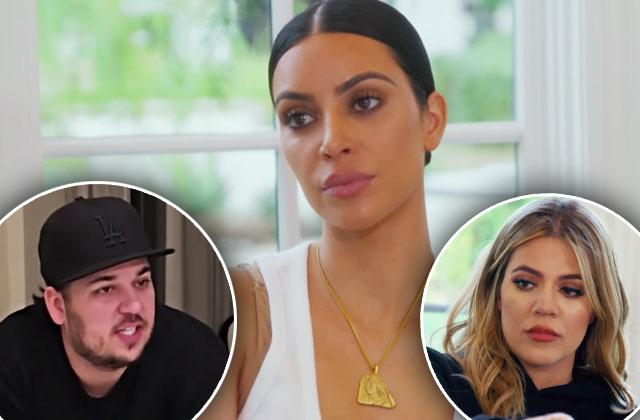 Rob Kardashian and Blac Chyna got into their most explosive fight yet on this week's Keeping Up With the Kardashians. The violent brawl forced the famous family to urge Rob to put an end to the relationship – and the couple's spinoff show.
On this week's episode, Chyna, 28, leaves Rob, 30, only one month after welcoming their daughter Dream.
Sister Kylie Jenner, 19, explained how their fight was so bad that Chyna trashed their home, which belongs to Kylie.
Article continues below advertisement
Rob posted videos of their empty home on Snapchat after she left with their daughter.
"I wanted people to know I'm hurt, that this is f****d up," Rob told Kim Kardashian and Corey. "The fact that you say if he doesn't get his s**t together in a year I'm going to drop him. Who are you to say I'm going to drop you?"
When Rob explained how police checked in on him, Corey responded, "People that don't know you are going to get the idea that you were suicidal."
Article continues below advertisement
Kim took her brother's side, as she called Chyna's motives "hurtful."
"I've always felt them as a couple isn't that healthy," she said. "And I think they know that too. It's not some secret. This all has to stop. It's so clear what this relationship is and that they're not meant to be with each other."
But their split was short-lived, as Rob explained how they go at it over the "pettiest s**t ever" and that he's "very happy" with the mother of his daughter.
Unfortunately for Rob, his sisters didn't buy it. Khloe Kardashian questioned why he would stay in something so "dark and toxic."
Khloe continued to slam, "I really thought there was no way in hell he would forgive her. The things she was saying and doing and the names she was calling him."
But Rob didn't take their advice, as he fired back, "You guys are speaking out of your a** so stop being stupid."
Article continues below advertisement
The relationship drama couldn't have come at a worse time, as Rob and Chyna were set to film the second season of their spinoff show. During a family meeting, they accused her of using him for the spinoff.
"You have your head so far up Chyna's a**," Khloe said, adding in her confessional, "I don't want my brother to keep getting taken advantage of. Does she still communicate with you when you aren't filming? To me it doesn't look that way."
But Rob defended how he is improving with his weight issues and depression by doing the show, as it motivated him to get his life in order.
"You can't tell somebody how to live their life. You have to experience yourself," Rob said. "I do love her and want to be with her so I'm not going to just give up."
Kim agreed they would "step back" and be there for Rob if needed.
Also on the episode, Caitlyn Jenner tries to improve her relationship with ex-wife Kris ahead of the release of her tell-all book The Secrets of My Life: Caitlyn Jenner.
Article continues below advertisement
"Caitlyn is writing a book and given the fact that I didn't agree with her version of many things that happened I have a little anxiety," Kris said in her confessional.
But she was right to be worried, as Caitlyn slams her in the book.
"I read it and basically the only nice thing she had to say was that I was great socially at a party one time," Kris broke down to daughters Kim and Khloe. "None of it made sense. Everything she says is all made up."
Kris continued, "Why does everything have to be that Kris is such a b***h and an a**hole?" All through the book, 'Kris knew, Kris knew before I even made love to her.' I'm like, 'what?'"
Kim defended her mother, saying how she has been "putting in so much effort" to have a good relationship with Caitlyn for their children.
"I've done nothing but open up my home and my heart to a person who doesn't give a s**t," Kris said, adding in her confessional, "I've never been so angry and disappointed in somebody in my whole life. I'm done."
Keeping Up With the Kardashians airs Sundays at 9/8c on E!
We pay for juicy info! Do you have a story for RadarOnline.com? Email us at tips@radaronline.com, or call us at (866) ON-RADAR (667-2327) any time, day or night.