Marriage In Krisis? Kim Kardashian 'Emotionally Drained' Over Kanye's Hospitalization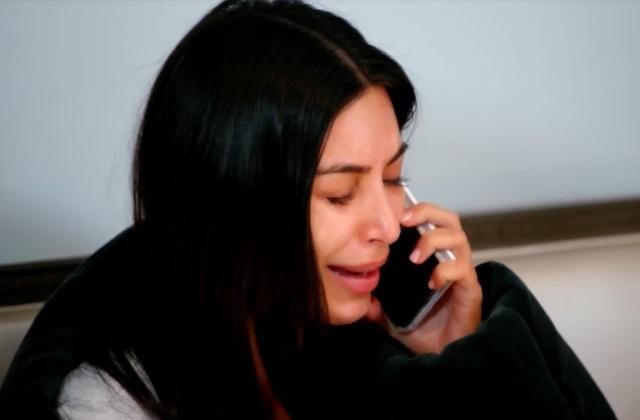 Kim Kardashian's marriage to Kanye West was tested on this week's Keeping Up With the Kardashians, as she learned of his hospitalization only weeks after being held at gunpoint and robbed in her Paris hotel.
Kim, 36, broke down when she received a phone call about her husband, who was placed on psychiatric hold in November 2016.
"What's going on? What's wrong? Don't scare me please," she cried, adding in her confessional, "I get a call from one of Kanye's friends and my heart drops. They're not telling me anything and I am so scared. I don't know what to do."
Article continues below advertisement
Kim kept her family in the dark about her husband's condition, as she told them to give her space. When she finally resurfaced, she kept details about his hospitalization under wraps.
"I'm not in the mood to get into it right now," she told her sister Khloe Kardashian and her mom Kris Jenner. "I'm just emotionally drained and exhausted. But everything will be okay. This is forcing him to take much needed time off. That will be really good for him."
Article continues below advertisement
Kim even blamed herself for his breakdown, as the rapper was forced to take care of her following her Paris robbery.
"I feel a sense of responsibility with the pressure of taking care of everything," she said. "I've been looking to him to take care of everything while I stay home. He never takes time off. Sometimes in life you just need time off. I'm so drained."
Kim added of their marriage, "Kanye said, 'This is what for better or worse means.' This is being a wife. This is what you got to do."
Although Kim was open to surrogacy in previous episodes, Kanye's hospitalization had her second-guessing their decision to welcome a third child to join sister North, 3, and brother Saint, 1.
"I feel like I need some time to see," she explained.
Khloe, 32, also has relationship troubles on this week's episode, but not with boyfriend Tristan Thompson. Khloe confronts her best friend Malika Haqq for ditching her for new boyfriend and former Jersey Shore star Ronnie Magro.
Article continues below advertisement
Malika explained how her "priorities have changed" now that she's in a relationship.
Khloe fired, "How many times have I called you and you never answered my phone calls? You're trying to say how I've changed when I do try to make an effort. Let's not play that game."
Malika explained how Khloe has been so happy in her new relationship with her new boyfriend that she doesn't want to "put her s**t" on her.
"My relationship that has taken a complete turn for the worst," Malika said, as Khloe responded, "How am I supposed to know any of those things? If you're sad I want to get you out of being sad."
When Malika explained how their relationship has become more estranged, Khloe promised to spend more time with her.
Also on the episode, Kendall Jenner, 21, has doubts about her clothing line with sister Kylie Jenner, 19, when Vogue wants to review it for an upcoming issue.
Article continues below advertisement
"I'm really proud of the line, but I've worked really hard to be taken seriously and recognized by Vogue and the fashion world," she said. "If this doesn't go as well as we'd hope it might tarnish some things in the modeling world. So it's even more frightening."
But the walk-through didn't alleviate Kendall's fears, as she couldn't read the Vogue rep.
When the review came in, the line received praise from the fashion bible.
Keeping Up With the Kardashians airs Sundays at 9/8c on E!