'You B***h!' Eden Sassoon Screams At Lisa Rinna In Explosive Season Finale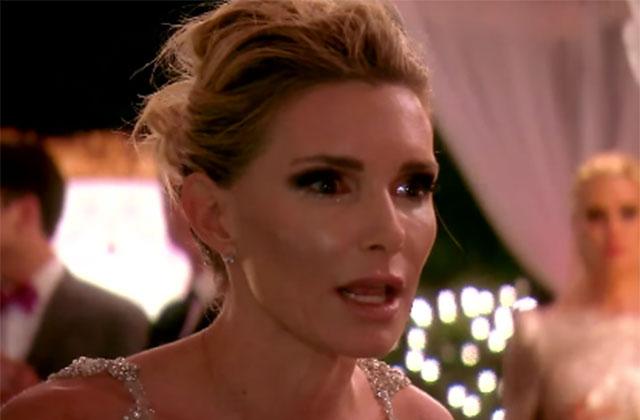 Lisa Vanderpump's diamonds and rosé-themed party wont' be soon forgotten by the ladies. The season finale of The Real Housewives of Beverly Hills finished with an all-out war between far too many of the women.
They barely got through a glass of wine before the yelling and finger pointing began. Dorit Kemsley couldn't get over Lisa Rinna's drug accusations said in Hong Kong and wanted an explanation for why she attacked her so viciously.
Article continues below advertisement
"I understood you were saying that I had a Xanax problem," Rinna justified. "I don't have a problem."
Dorit stood her ground and repeated, "'I never said you have a problem." She added, "I don't actually enjoy attacking people. And you know what — you do."
Then Rinna pivoted the conversation to focus on Erika Girardi and how Pantygate was "disgusting" behavior.
Apparently, the drama that everyone thought was squashed wasn't. Erika said, "You've called me cold, you've called me heartless. It's hurtful, it's rude."
Dorit fell back on the excuse she was making a joke and it was all taken out of context. Come on, really?
Erika launched at her again— "I haven't done anything to you and you walked around and talked all this s**t about me. You have and I get it, it's who you are."
Meanwhile, PK Kemsley was eavesdropping on the women's entire conversation and couldn't wait to jump right into the catfight.
"Erika, you just said that you're deliberately cold," he said. "You're not deliberately cold, you're inherently cold."
MORE ON:
The Real Housewives of Beverly Hills
Article continues below advertisement
The Kemsleys and Erika finally agreed to move on though they won't ever agree on certain details and behavior.
Rinna thought she escaped persecution but little did she know Eden Sassoon had some anger that was brewing inside.
Eden asked Rinna why she hasn't been a very supportive friend during the drama. "You're never present for me. You're never there," Eden explained.
Rinna brushed her off — "The minute you went to Vanderpump my guard went up, sweet thing. The minute you did that, you were done."
Eden couldn't control her emotions. "No, that is rude!" she screamed. "I've given you so much of my time, my energy, my f**king heart, you b***h!"
She added, "It's not okay for you to threat me the way you do. I'm sick of you walking all over me and using me as your f**king scapegoat."
The Real Housewives of Beverly Hills: Reunion Part I airs next Tuesday at 9pm ET on Bravo.