Shocking Confession! Lisa Rinna Admits She Called Kim Richards 'Close To Death'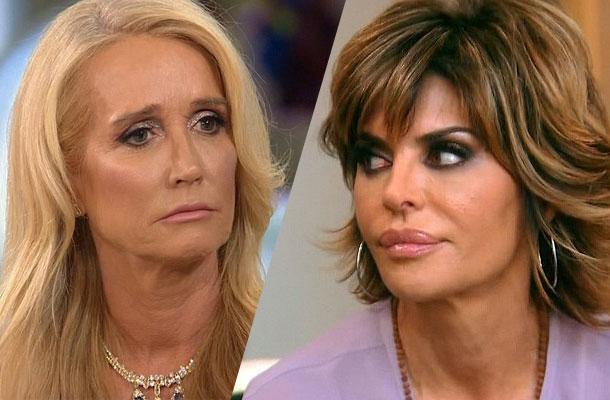 Nothing like a little cheesecake and dessert wine to bring out to truth!
Lisa Rinna finally came to her senses at Kyle Richards' sweets party and realized she actually did actually say those hurtful things about Kim Richards.
In her confessional, Rinna admitted, "I did say those things. Now I have to own it … I will always tell my truth."
Just to rewind briefly, Lisa told Eden Sassoon after a confrontation at game night that Kim was "close to death" and Kyle was "enabling" her issues with addiction. Eden told Lisa Vanderpump who then passed the gossip on to Kyle.
Article continues below advertisement
When Kyle confronted Rinna on their trip to Mexico she adamantly denied that she used those words, but in fact, she did.
Now we're at the dessert party and in front of everyone (plus Kim's sober sponsor) Rinna announces: "Now that I've had time to think about it, I said them."
Well, Kyle is pissed because she almost believed her friend's lies and Kim is disgusted by the truth. The now-grandma is also not ready to let Eden off the hook for repeating Lisa's words —"I can't even look at her."
"Lisa Rinna flat out lied to me Mexico. That is not something you say and just forget it," Kyle realizes her confessional.
Kim slams Rinna for labeling her and calling her sobriety into question. "That is so uncalled for," she said.
Rinna tried to defend herself and claims Kim was "provoking" her at game night but then Kyle jumps into the conversation.
"You lied and now you're trying to cover you're a**," the former child actress said. "Just don't make up stories and make up bad rumors."
Kim started to get upset: "You don't think of the consequences for other people. My children are affected. My sisters are affected."
After pointing fingers and yelling and some tears, the women just want to stop talking about Kim and Rinna and Kyle and why no one can get along.
"Every ounce of my being wants to move on," Rinna says and the other wives agree.
The Real Housewives of Beverly Hills airs Tuesday at 9pm ET on Bravo.