'Deadliest Catch' Star Sig Hansen's Daughter Uses Sketch To Accuse Him Of Molestation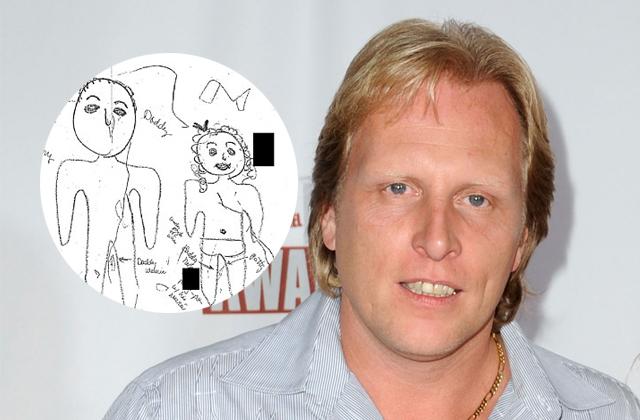 A disturbing sketch that Deadliest Catch star Sig Hansen's daughter made as a little girl was included in the lawsuit she filed accusing him of molesting her.
As RadarOnline.com has previously reported on the shocking molestation claim, legal papers published in the Seattle Times show that Melissa Eckstrom accuses Hansen of sexually abusing her when she was two years old.
Eckstrom, who is now 28 and an attorney, filed court documents in Seattle, Washington contending that Hansen, 50, molested her in 1990, after he had separated from her mother.
Article continues below advertisement
"I have memories of my father hurting my genital region. Memories of being in a room alone with my father and crying out in pain," Eckstrom wrote in the court declaration.
But the famous reality TV sea captain has vigorously denied Eckstrom's accusations, saying it's "an old-fashioned shakedown" attempt after he refused to pay her law school admission costs to the tune of $300,000.
Eckstrom claims in legal papers that she said during a childhood medical examination that "daddy puts his finger in my potty-pot," an intimate area, and remembers telling both her grandmothers that "daddy pottied on my leg."
In her legal filing, Eckstrom included a haunting drawing she allegedly did as a child as a way of explaining the abuse during a counseling session.
The sketch shows characters named "'mommy" and "daddy" and a little girl representing Eckstrom. Arrows point to various areas in the primitive drawing, including one to what the girl calls "potty pot."
Meanwhile, Hansen said charges that he molested his daughter are absolutely false.
Article continues below advertisement
"'This is nothing more than an old-fashioned shakedown. It's a completely frivolous lawsuit full of lies that my ex-wife made up to take away my daughter, and still uses to try to extort money from me. It's blackmail," he told The Seattle Times.
The star who thrills fans by catching fish on the Discovery channel show gave up parental rights to Eckstrom when he divorced her mom – and also told The Seattle Times that his daughter, was "brainwashed and programmed by her mother and multiple members of her family."
UPDATE:
Sig Hansen told RadarOnline.com, "I'm a pretty plain-spoken guy, and to me, this is nothing more than a shakedown. The allegations are completely false, rehashed lies my ex-wife Lisa Eckstrom used nearly 30 years ago to take away my daughter, and has continued to try to use to extort money from me. The fact is, decades ago I was exonerated of these allegations after a full court trial. My ex-wife Lisa took me – and worst of all, my parents – to court for this back in 1990, making these baseless claims. We were fully exonerated after a prosecuting attorney, a judge, court-appointed experts, a guardian ad litem and team of other child experts all agreed that these claims were pure fiction. I cooperated 100 percent, including taking a polygraph test that also confirmed my innocence. The tragedy is that my ex-wife Lisa has poisoned my relationship with our daughter through years of vile lies. Lisa has spun a web of deceit, depriving my daughter and me of a healthy, loving relationship. To me, that is the definition of child abuse. This is the third time the Eckstrom family has threatened to publicly rehash lies about me unless I pay them a pile of money, and I finally said enough is enough. If you've got something, bring it, because it was BS then, and it is BS now."
We pay for juicy info! Do you have a story for RadarOnline.com? Email us at tips@radaronline.com, or call us at (866) ON-RADAR (667-2327) any time, day or night.