Exclusive
'Cyberstalker'? Christopher Darden Hit With Restraining Order Request From Ex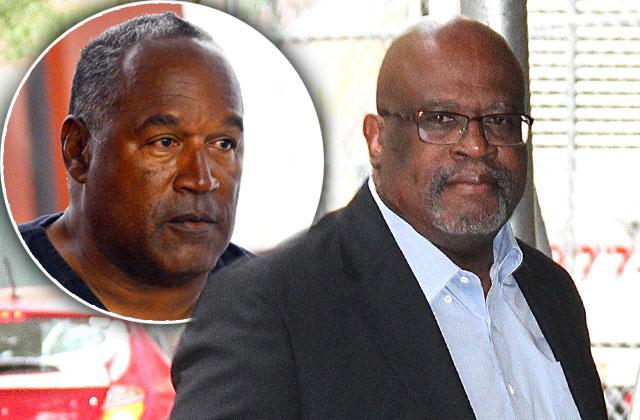 Infamous OJ Simpson prosecutor Christopher Darden is caught in another messy legal brawl, as a woman claiming to be his ex-girlfriend and baby mama has accused him of outrageous behavior, including cyberstalking, harassment, and worse.
Celia Smith filed paperwork on February 2 asking a court to keep Darden 100 yards away from her, her alleged daughter with Darden, Chloe, 4, her mom Anita Smith, 60, and her brother Robert Smith, 36.
Article continues below advertisement
Smith claims in the documents she and Darden used to live together, and that she bore a child by him, Chloe, on October 17, 2012. Since then, she alleges, their supposed relationship has been a living nightmare.
Smith provided several examples of alleged communications on the custody website Talking Parents, that she claims shows Darden's abuse.
In one message, she writes, "I am in fear of my life. You won't stop with the harassment. Your obsession with me is disturbing."
Darden allegedly replied, "You may rot. Obsession indeed. I despise you."
Smith told the court she needed the protective order because she was "afraid and fearful that Darden will become enraged and send his ex-girlfriend … to harass, attack, stalk, and intimidate me, my family, friends."
Smith claimed in the request that he is a "threat" who has accused her of "doing meth," and called her "horrible names – lot lizard prostitute, dirty nasty stripper," and more.
Article continues below advertisement
She alleged that he has been "cyberstalking my friends and sending nude photos and my arrest record."
Reached by RadarOnline.com for comment, Darden insisted he had no idea about the case, and had not been served any documents. His attorney did not immediately respond to RadarOnline.com's request for comment.
Darden said there was much more to the story than what has appeared in the filing.
"I have never been served with this document and NO TRO has been issued against me," he insisted, claiming it was actually Smith who "has stalked my children and threatened us with death."
He insisted there is no "proof I did anything to anyone …"
The court agrees, so far: Smith's request for a temporary restraining order was initially denied, with the court explaining, "It is not possible to establish who sent" the emails in question. The court ruled that the emails purportedly from Darden "do not establish threat, but rather indication" that Darden "does not want to communicate other than about" their child.
A scheduled Feb. 28 hearing on the matter was still unresolved at press time.
Story developing.
UPDATE:
Smith's TRO request was denied and dismissed late on February 28, because of lack of evidence and foundation.
We pay for juicy info! Do you have a story for RadarOnline.com? Email us at tips@radaronline.com, or call us at 800-344-9598 any time, day or night.