Kyle Richards Defends Relationship With Sister Kim Amid Addiction 'Enabler' Gossip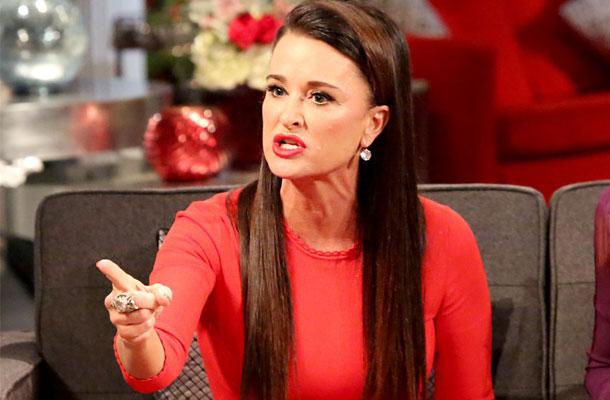 Eden Sassoon is a dog with a bone! She just can't leave Kim and Kyle Richards alone but the sisters set her straight during this week's episode.
Kyle already had her back up because Eden approached her at Lisa Rinna's barbeque about how she thinks Kim isn't in a good place with her sobriety.
The daughter of hair icon Vidal Sassoon, had only brief encounters with the sisters but claimed Kim was "closed off" and "abrasive" towards her.
Article continues below advertisement
"I think maybe you're reading into things with a magnifying glass or something," Kyle told Eden. "I don't really know what to do with that to be honest. I think it's just injecting yourself into something you don't know anything about."
But later on at Kyle's over-the-top Great Gatsby-themed bash at an incredible oceanfront estate in Malibu, the three women finally came face-to-face-to-face.
"What I'm hearing is that you're judging me," Kim explained to Eden. "You were looking for trouble and I didn't want to be around that. I just needed to back away from you a little bit."
Sassoon finally admitted why she keeps picking at their relationship: it's because they remind her sister, Catya's, struggles with addiction and tragic death.
"I look at the two of you and I feel like it's me and my sister, and so I get emotional," she confessed. "I want to tell Kim and Kyle, 'I'm here, I care.' I've lost my sister to this disease. I'm a recovering alcoholic."
Though, Kyle wasn't so fast to fall for her sob story. "Just to be clear, I am not an enabler," she said.
And one friend who backed her up was Lisa Vanderpump. "She's been a really supportive sister," admitted the SUR owner.
The Brit even sent Eden off with a stern warning: "We started off on the right foot and I'm happy about that. But my other foot will kick you in the ass if you come after my girl Kyle."
The Real Housewives of Beverly Hills airs Tuesday at 9pm ET on Bravo.