Amanda Knox Confesses: I Went 'Gay For Stay' Behind Bars!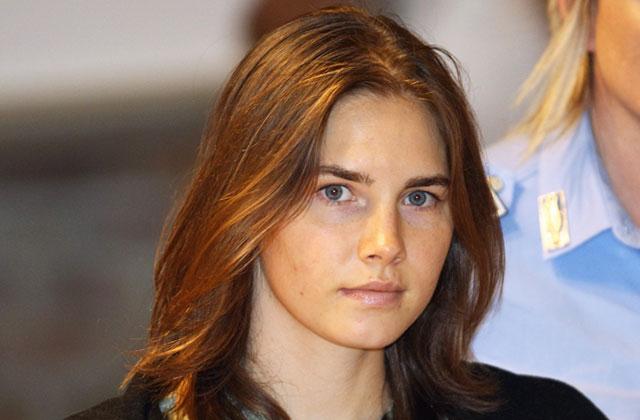 Amanda Knox has made a bombshell confession, and it's not related to the murder of Meredith Kercher. According to the former exchange student turned acquitted murder suspect, she had a lesbian lover behind bars!
"Foxy Knoxy" served four years out of her 26-year sentence, "Imprisoned for a murder I didn't commit," she wrote on Broadly.Vice.com , where she described her intimate relationship with a female while locked up, explaining that many incarcerated women were "gay for stay."
Article continues below advertisement
"Every day, Leny watched me jog around the yard (a rectangular outdoor area roughly a quarter of the size of a football field), and eventually worked up the nerve to say hello. I was cautiously friendly. We walked the perimeter together. She told me she was a lesbian and I told her I was straight."
Knox revealed that she told Leny (not her real name) a rumor started in her Catholic high school that she was a lesbian, "alienating" her from many, but that she helped create the Gay-Straight Alliance at her school, which endeared her to Leny.
"Afterwards, she scampered, puppy-like, alongside me as I paced the exercise yard — the next day, and the day after that, and eventually every day," Knox wrote.
"Over the next few weeks, we became friends. Well, almost-friends. I didn't really have friends in prison. Singled out as 'the famous one' by both inmates and officers, I spent my first eight months in isolation, and after that, prison staff steered visiting politicians to my cell door to show me off," she wrote.
Article continues below advertisement
Knox described how and why her relationship with Leny evolved.
PHOTO: AMANDA KNOX SPOTTED IN TORONTO AHEAD OF BOMBSHELL DOCUMENTARY PREMIERE
"I was caught between defensiveness and loneliness," she continued. "Leny didn't demand that I give her the 'real scoop' about my case, or the clothes off my back, or ask me to buy her cigarettes. At first, she didn't demand anything. So I let Leny listen to my CDs. I taught her how to play chess. When Leny got a janitorial job, she loitered outside my cell for a sip of espresso and a chat whenever she was on break. Leny didn't have anyone else, so she looked forward to our time together."
But Knox, who was convicted of the crime with Rafaele Sollecito, and dated him briefly after leaving prison, explained how their relationship progressed.
"Leny wanted to hold hands. 'I've changed women before,' she'd tell me. 'I can do things to you that no man can.'"
Knox wrote that she "felt objectified," and would "get annoyed," telling Leny: "You can't change me."
But Knox said the woman wouldn't relent: "She'd think I was playing hard to get. One day, Leny kissed me. I gritted my teeth and half-smiled, wavering between embarrassment and anger."
Knox said she cut off the relationship finally.
She's dated men since returning to America.
What do you think about Amanda's relationship with a woman behind bars? Sound off in comments below.
We pay for juicy info! Do you have a story for RadarOnline.com? Email us at tips@radaronline.com, or call us at 800-344-9598 any time, day or night.