Erika Girardi Warns Gossiping Newbie Dorit Kemsley: 'Just Be Careful!'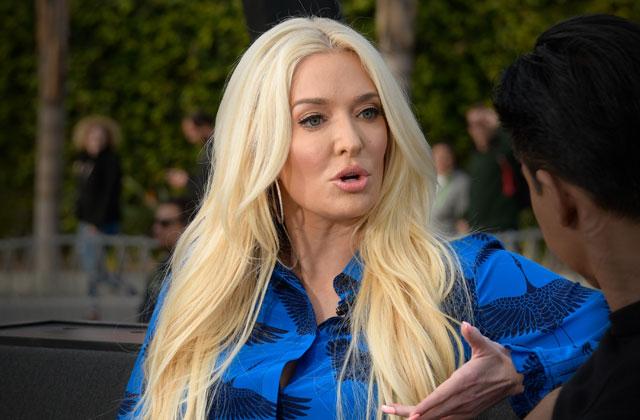 Pantygate continues!
Well, we all know after this week's episode that Erika Girardi definitely wasn't wearing any underwear under her dress before The White Party. But did she flash Dorit Kemsley's husband, PK, on purpose?
The newbie got slapped with a harsh Real Housewives lesson from the singer: when you continue to gossip, everything just gets worse ... cough cough Lisa Rinna.
Dorit thought going around to Kyle Richards, Eileen Davidson, and Rinna talking about Erika's unladylike behavior would be fine but oh was she wrong.
Article continues below advertisement
She said over drinks, "If you're a lady, I'm sorry – isn't it kind of Lady 101? You've got no undies on, you've got a short dress, cross your legs! And added, "I know I would be conscious of being in front of another man."
Dorit even thought gifting Erika a pair of lace panties would be like extending a funny olive branch but Erika actually got insulted.
"I'm not really happy Dorit's husband caught a glimpse up my skirt," she explained. "Why wouldn't you tell me? The whole thing is kinda weird."
Then the entertainer dished out a harsh warning. "I'm going to give you a little piece of advice in front of everyone," she snapped back. "The more you talk about sh*t, the worse it gets. Just be careful."
But Dorit didn't like the sound of that last part. She said in her confessional, "Is that a threat? It's a little bit too ominous and it's a little bit too scary."
Though, other women mostly sided with Erika. "Obviously she knew she didn't have underwear on but she did not realize that she was showing," defended Kyle. "She would never do that … she's not showing her vajayjay to someone's husband!"
The women thought Dorit was taking the silly topic too far and they were more grossed out by Dorit's husband.
He claimed he was very "uncomfortable" by the no panties situation but couldn't take his eyes off her. Seems curious.
The Real Housewives of Beverly Hills airs Tuesday at 9pm ET on Bravo.