'RHOBH' Star Dana Wilkey Begs Judge To Keep Her Out Of Jail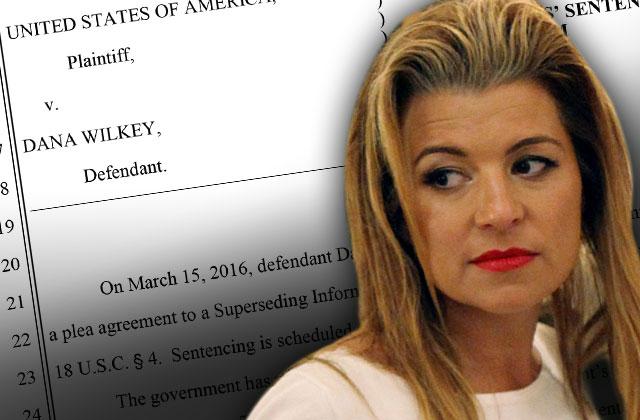 Former Real Housewives of Beverly Hills star Dana Wilkey is pleading with a Federal Court judge to not sentence her to the maximum 20 years in prison in her criminal case, RadarOnline.com has exclusively learned.
According to court documents in the case, the reality star claims she's a good person who got caught up trusting the wrong friend. She points out that she's been fooled by many before including her cheating ex-baby daddy and even says she allegedly had a boyfriend threaten to kill her.
Article continues below advertisement
Wilkey and two associates were arrested on June 18 and indicted with "conspiracy to commit wire fraud, wire fraud and aiding and abetting, and making false statements to government agents," according to the FBI.
The reality star was the president of a company named Adwil Agency, a Blue Shield vendor. Wilkey and her associate Skylar Phoenix "entered into a fraudulent marketing contract" between Wilkey's company and Blue Shield, and that Wilkey gave regular kickbacks to the couple.
"Between in or about February 2006 through at least February 2012, Dana Wilkey, through Adwil Agency accounts, paid directly to Lissa Phoenix, Skylar Phoenix, and Rodeo Pink, approximately 87 checks totaling approximately $360,000 in illegal and undisclosed kickbacks related to Adwil Agency's business with Blue Shield," the release charged. Wilkey is facing up to 20 years in prison for each wire and conspiracy count.
Article continues below advertisement
In March, Wilkey reached a plea deal with the feds and changed her plea to guilty as to Count One of Misprision of a Felony.
The prosecution explained that Wilkey failed to make any attempt to verify the truthfulness or accuracy of Skylar Phoenix's credentials or actions.
The documents explained the ex-RHOBH star worked in marketing through her company Adwil Agency. The company provided internet-based marketing services to Blue Shield of California between 2006-2012.
Wilkey was introduced to BSC through her prior business and social contact Skylar Phoenix – who worked for Blue Shield and had authority in the marketing department. The Feds said that the reality star began paying Phoenix a portion of the funds she was paid by Blue Shield because she claimed she was working on projects outside her role at BSC. Wilkey claims Phoenix was the project manager of Adwil's account with Blue Shield and the reality star paid her friend a consulting fee.
Article continues below advertisement
The Feds said Wilkey never attempted to verify Phoenix's statements regarding her being able to work for BSC and also be a contractor for her marketing agency. The documents state that Wilkey knew or reasonably should have known such an arrangement, if not properly disclosed or approved, would be fraudulent.
Wilkey plead guilty to Count One and the terms of the deal with prosecutors will be filed in the case in the near future.
MORE ON:
The Real Housewives of Beverly Hills
In the documents obtained by RadarOnline.com, Wilkey begged the judge to be lenient with her sentence. The reality star explained she had no idea that her business partner had been defrauding people nor was she aware of any deceptions by the woman. She explains to her "everlasting regret" she trusted the woman and understands the reasons she stands before the court due sidelining what she should have not ignored. Her lawyer says Wilkey has a history of misplaced trust and this is not the first time she trusted others to her own detriment.
Article continues below advertisement
Placing in context Ms. Wilkey's misplaced trust, the documents revealed her claims that this case is not the first time she has trusted others, to her detriment.
He attached numerous letters from her friends and family peaking about her character, claiming she is a good mother, worker and overall person. She believes that after this case ends and for the rest of her life she will apply the lessons she learned from this situation, striking the right balance between caring trust and careful self-protection.
Wilkey explains she "has reached the point in her life that she cannot ever risk losing custody of her son, or seeing her grandmother being placed in a nursing home. Nor can she risk her employment. The deep and important relationships developed over a lifetime is something she will not put in jeopardy. As a result of this conviction, there is a sword hanging over Dana Wilkey's head, and that is still another reason she understands she must not re-offend."
Article continues below advertisement
Wilkey says the monthly restitution payments she will be ordered to pay will also serve as a reminder to stay on the straight and narrow.
She points out she graduated from the University of Southern California and became a self-made female entrepreneur. However, she suffered numerous personal setbacks in her life including her parents separating, her grandfather and mother passing away, her first marriage to a movie producer ending after he became addicted to prescription pills and allegedly threatened to kill her while he was high, plus another man – the father to her son – cheating on her and causing her to suffer severe emotional and verbal abuse which went on for years.
Wilkey is pleading for the judge to not throw the book at her and is asking for no jail time at all, five years probation and six months of monitoring with the Location Monitoring Program. She is scheduled to be sentenced on Oct. 19 this year in Federal Court.
We pay for juicy info! Do you have a story for RadarOnline.com? Email us at tips@radaronline.com, or call us at (866) ON-RADAR (667-2327) any time, day or night.