Another 'Teen Mom' Drug Scandal! Maci Bookout's Baby Daddy Ryan Accused Of Being High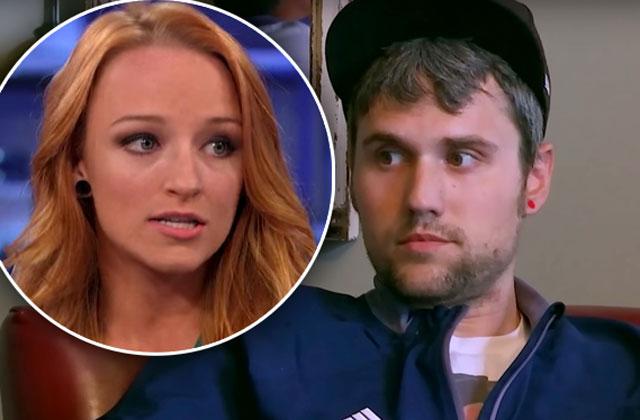 Another day, another Teen Mom drug scandal! Maci Bookout's baby daddy Ryan Edwards is being accused of using drugs after he appeared to be high on this week's Teen Mom OG.
After son Bentley's baseball game, his grandmother took him to his dad's house to celebrate Father's Day.
Fans accused Edwards of being high while talking to his son because of his bulging eyes.
"Is it me or is Ryan Edwards totally drugged out on tonight's episode?" one user asked, as another blasted, "Holy Ryan just looks higher than a kite in the scene."
Article continues below advertisement
A third commenter asked, "What's with Ryan's crazy eyes? Poor Bentley. Championship game on Father's Day & Ryan would rather sit home on the couch."
During the episode, Edwards' father kicked him out of his home for being a "lazy," "selfish" and a "blood-sucking leech," while Edwards blamed the fight on using his father's wrenches.
But fans believe drug use could've been the cause of the family feud.
"After tonight's episode I am convinced that Ryan is on drugs and that's why Larry kicked him out," a user wrote, as another tweeted, "Bugged eyed Ryan asked Bentley if he hit well in his game twice in two minutes and nodded off. So the fight was about wrenches huh?"
Edwards has not responded to RadarOnline.com's request for comment.
As RadarOnline.com readers know, this isn't the first time the baby daddy has come under fire in recent months.