Exclusive
'Choked & Threatened!' Court Papers Reveal 'Horrific' Marchese Plane 'Violence' Details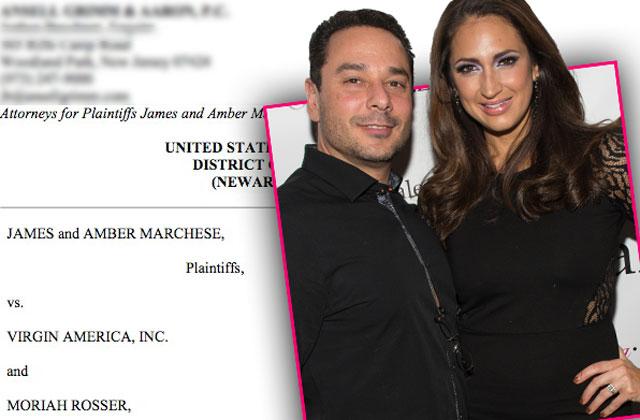 Jim and Amber Marchese have officially filed a lawsuit against Virgin Airlines and their flight attendant, RadarOnline.com has learned.
The ex-Real Housewives of New Jersey stars are suing for defamation, negligence, negligent infliction of emotional distress, malicious prosecution, false imprisonment breach of contract, breach of covenant of good faith and fair dealing and unreasonable refusal to transport passengers following Jim's April 20 arrest for domestic violence.
Article continues below advertisement
The couple alleged that their flight attendant Moriah Rosser claimed "James choked and threatened Amber" because she did not like the couple on the Bravo show. Rather, the Marcheses stated that they "engaged in some flirtatious behavior and conversation while in their first class seats on the plane" before drinking and falling asleep.
They stated that their trip home from filming Marriage Boot Camp was cut short when airport police removed them from the flight over a report that "James allegedly threatened and strangled Amber on the plane."
The couple was then separated for questioning, and Amber denied the abuse to the police and "refused to sign any reports."
"Amber was subsequently handcuffed for reasons unknown and later unhand cuffed for reasons unknown," the document read. "James was handcuffed and taken into police custody in LAX where he was arrested for domestic violence."
"No charges were filed against James because there was a lack of evidence as to any wrongdoing by either James or Amber," the papers read. "The police identified the only eyewitness as Rosser, who reported the incident."
Article continues below advertisement
Jim and Amber claimed that their reputations have been destroyed as a result of the case.
Now, the reality stars decided to file suit six months later, despite Virgin Airlines claiming that they have no merit.
"It's what I would expect them to say," Jim told RadarOnline.com exclusively. "The facts of the case speak for itself."
"I had taken my time preparing the suit," he explained. "We did our due diligence and calls were made to determine why the incident occurred. The complaint details what we now know, which is more shameful than what I originally thought."
"There are people in this world that would do horrible things to you just for their own benefit or gain," he explained. "We are fortunate that we have the financials and the education to fight back. Think about how many innocent people in my situation who would lose their jobs, who would be in prison for months until the system works itself out."
"For me, the phone stopped ringing for cases once this happened," he added. "I wanted to do some speaking on political events — with my three degrees, I definitely had the background. Prior to this event, I was invited on places like Fox. I was invited to speak at the Wall Street Journal. I was invited to a lot of venues. Nobody called me back after this incident. It has absolutely had an impact."
Article continues below advertisement
"When incidents like this happen no one picks up the phone and says 'we're not gonna do business with you anymore because of this incident.' You just know nobody calls you back anymore."
"I hope people recognize that domestic violence is a terrible thing," he concluded. "When incidents like this happen, people who are really victims of domestic violence — that have serious issues where someone's physically harming them — those people are the the ones who are hurt by things like this that Virgin did because it makes it a joke."
Stay with RadarOnline.com for more.
We pay for juicy info! Do you have a story for RadarOnline.com? Email us at tips@radaronline.com, or call us at (866) ON-RADAR (667-2327) any time, day or night.