Source: Jay Z Can't Stand 'Crazy Nut Job' Kanye West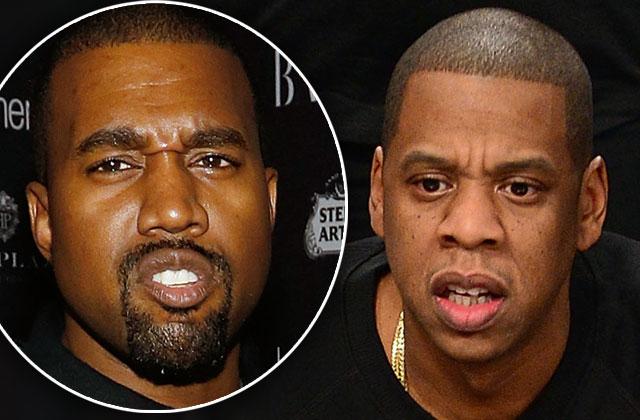 Kanye West and Jay Z are officially done with one another both personally and professionally, RadarOnline.com has learned.
According to Page Six, a feud has been brewing between the two rappers for quite some time, with the fallout from Kim Kardashian's traumatic robbery sending Kanye over the edge about his less-than supportive friends.
During a show at Seattle's KeyArena on Wednesday, the hip-hop star seemed to outright bash Jay Z on stage, telling the audience: "Don't call me after the robbery and say, 'How you feelin'?' You wanna know how I'm feelin'? Come by the house . . . Bring the kids by the house like we brothers . . . Our kids ain't never even played together."
Article continues below advertisement
Now, a source close to the stars reveals their friendship has never been very friendly.
"Jay can't stand him," a music insider told the publication. "He looks at him as this crazy, eccentric mother***er he can tolerate in small doses. Kanye is a nut job. Everyone knows that."
When it comes to their collaborations, the source claims it's all about the money for Beyonce's hubby: "Jay was like, 'I'm gonna knock this Watch the Throne album out. We're going to do a tour to bring in millions of dollars. I can tolerate that.'"
Meanwhile, those close to West tell Page Six a different story, insisting, "They are brothers, closer than friends. Jay appreciates Kanye's genius, understands his passions and eccentricities and is accepting of it all."
But the first source wasn't buying that story at all.
"That's just perception," the insider hit back. "The reality is that Jay doesn't want that much to do with him. He likes his own space and is private. They're very much not the same person. Jay's immediate circle is very insular, and Kanye is just a guy who always wants something in the spotlight."
Do you think Kanye and Jay really hate each other? Sound off in the comments below.
We pay for juicy info! Do you have a story for RadarOnline.com? Email us at tips@radaronline.com, or call us at (866) ON-RADAR (667-2327) any time, day or night.