Exclusive
Farrah's Dad Blames Amber For Reunion Show Attack – Inside What Really Happened!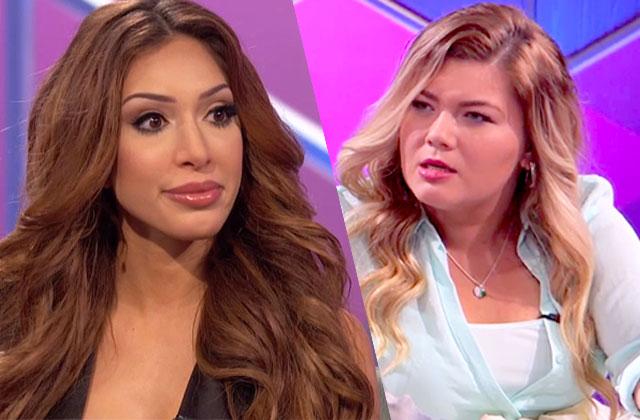 The most explosive Teen Mom OG fight of the series took place at the reunion show taping — and Farrah Abraham's father insists it's all Amber Portwood and Matt Baier's fault! Michael Abraham exclusively told RadarOnline.com what really forced the co-stars to go at it.
Michael, 60, explained how Farrah and her on-again, off-again boyfriend Simon Saran were on stage talking with reunion show host Dr. Drew Pinsky before the fight broke out.
Article continues below advertisement
"Simon Saran was getting ready to apologize openly for his social media comment about Matt looking like a pedophile," Michael, 60, told RadarOnline.com. "I didn't hear it, but Farrah said he looks like a pedophile."
That's when Amber stormed on set and began "verbally going off" on Farrah.
"Like any good father, from my point of view, I saw her hand touch my daughter's face," he said, explaining how MTV was supposed to keep the other co-stars separated from Farrah and her family. "When I saw Amber touch my daughter, that's when I got between the two of them."
Although Farrah told RadarOnline.com exclusively that Amber did not hit her, Michael explained how he called Amber a "f*****g b***h" to distract her from putting her hands on his daughter again.
Michael trying to end the confrontation forced Matt to storm on stage to protect his fiancée. Although Amber accused Michael of trying to choke Matt, he insisted that wasn't true.
"I didn't grab his neck," Michael admitted. "I was protecting myself. I had a raging person come after me. I was thrown into the audience. Security did the very best they could."
Article continues below advertisement
Michael claimed he hit his head on the ground when he was thrown into the audience. He suffered from bruises, scrapes, burns and an injury to his back. His hearing aid was also broken in the attack.
"He did not know what his stupid a** did," he said. "The facts are there. I never did touch Amber. I am a gentleman. I would never touch her."
Michael explained how Amber and Matt are "at fault" for the fight since Farrah and Simon never got off the couch to fight back. He even explained how he is surprised by Amber's behavior after knowing her for years.
"They have always had a great relationship," Michael said of his daughter and Amber. "This is not the Amber I know. Amber has been very open and honest about what she has been suffering from mentally, depression. I am apathetic towards her. I don't know if she didn't take her meds. This is not the Amber I know."
As RadarOnline.com readers know, the feud kicked off early in the season when Farrah advised Amber to dump her fiancé when RadarOnline.com broke the story that he hit on her before settling for Amber.
The feud heated up when Simon said Matt is the "red dot in your community, watch out for him" over Snapchat.
Whose side are you on? Tell us in the comments!
We pay for juicy info! Do you have a story for RadarOnline.com? Email us at tips@radaronline.com, or call us at (866) ON-RADAR (667-2327) any time, day or night.