Teresa Giudice's Friend Threatens Jacqueline Laurita: 'I Will F**k You Up!'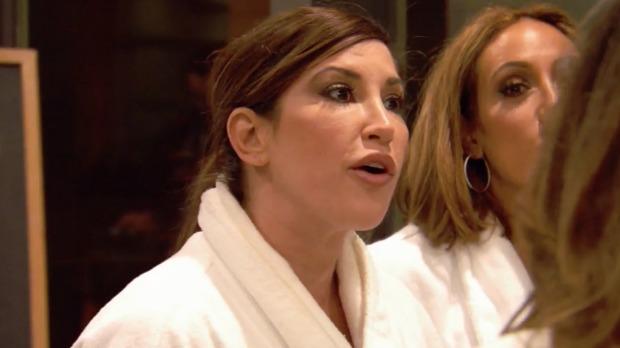 So much for a "relaxing" trip to Vermont! On this week's The Real Housewives of New Jersey, Jacqueline Laurita packed her drama from home as she fought with all of her co-stars!
While on the bus to Vermont, the women discussed how Teresa Giudice no longer wants to have a relationship with Kathy Wakile and Rosie Pierri.
But Laurita explained how Giudice wasn't clear about cutting off ties with her cousins while out to lunch on last week's episode.
Article continues below advertisement
"I think they have mixed messages though because they think you told her she could come to your house if she wanted to," Laurita said, as Giudice responded, "They're never going to call me and I'm never going to call them. The door is closed, I'm done!"
Melissa Gorga came to her sister-in-law's defense, as she told Laurita to relay the message instead of Giudice.
Laurita fired back, "Are you hearing what I'm saying? I'm not relaying the message! I'm just letting you know the message was not clear. I'm not pushing it at all!"
When Giudice explained how it does seem like Laurita is pushing the issue, her brother Joe Gorga cleared up the misunderstanding to end the first brawl of the trip.
"You said my door is always open," he explained. "You were just being nice. What you said to them is 'I'm done.'"
Giudice responded, "I don't give a f**k. I rather worry about Teresa Giudice. F**k everyone else!"
But the fighting didn't end there, as Laurita fought with Gorga again over hiring a manager who the infamous Kim DePaola claimed sold stories about Giudice to the press.
Article continues below advertisement
Laurita fired back when Gorga defended her 21-year-old manager, "See if she has the facts to back up what she said!"
Gorga refused, explaining, "Kim D will just scrape at the bottom of the barrel to cause turmoil. That's how Kim D rolls. I can't fire someone because Kim D doesn't like him. This person set people up to make me look like a f**king stripper!"
But Laurita didn't wasn't done fighting, as she then fought with Giudice's friend Robyn Levy because she believes she is "Teresa's soldier."
"Robyn rubs me the wrong way," she said in her confessional. "She reminds me of some of the other people that have come around in Teresa's circle. It makes me question if Teresa changed."
Levy defended herself against Laurita's accusations by explaining how she "makes her own decisions."
"I don't need you who doesn't know me and who shouldn't judge me to call me a soldier to Teresa," Levy said. "What is your problem? You calling me a soldier makes me want to rage on your f**king a**."
Article continues below advertisement
When Laurita tells her to "do it! Rage on my a**," Levy warns her to "shut the f** k up and bring it on."
That's when Laurita sits on her lap and yells, "You said you wanted to do something to my a**? I was handing it to you on a platter!"
Levy shot back, "I will f**k you up! You got issues! You are an instigator!"
When Giudice heard of the fight, she said she wouldn't be surprised if Laurita "crossed the line" because she "did punch her sister-in-law Caroline Manzo in the face."
Laurita then screamed to her on-again, off-again best friend Giudice, "I thought you said you cleaned house? You forgot to take the garbage out!"
The next morning, Laurita refused to come out of her room to join the women for skiing.
Although co-stars Dolores Catania and Siggy Flicker were concerned, Giudice felt Laurita was trying to play the victim.
"Jacqueline is very calculated and she's very hurtful and she hits you where it hurts," she explained.
When Laurita told Catania and Flicker that she plans to leave the trip early, they insisted Levy should be the one to leave.
The Real Housewives of New Jersey airs Sundays at 8/7c on Bravo.