Rob Kardashian & Blac Chyna Split As He Sinks Into Depression: 'I'm Out Of Her House!'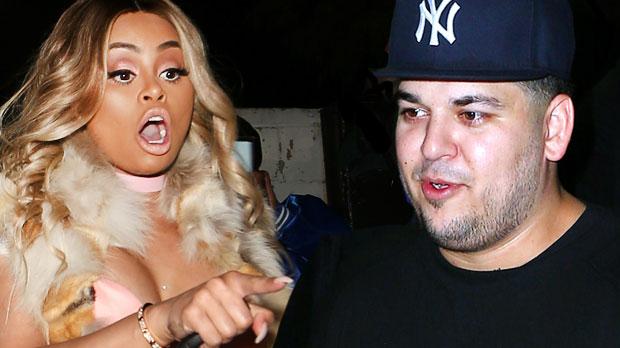 Rob Kardashian and fiancee Blac Chyna have a wedding in the works and a baby on the way— but they just can't seem to stop fighting.
On last night's episode of Keeping Up With the Kardashians, the Kardashian/Jenner clan was reeling over the misfit brother's volatile romance.
Over dinner with Khloe and Kendall, Scott Disick broke the news that Rob and Chyna had gotten into it, and blamed the blowout on the former recluse's pressure to provide for his insta-family overnight.
Article continues below advertisement
After years of hiding on sister Khloe's couch, "now he has to take care of a woman, a child and a stepchild," father of three Scott explained, referring to King, Chyna's son with ex Tyga.
In a conversation with recently reconnected sister Khloe, Rob revealed that the fight was much more than just a small rift.
"I'm out of her house and we're not living together," he said.
"You've got to be strong on your own two feet," divorcee Khloe responded. "So no matter what, you'll always be okay."
After speaking to Chyna alone, momager Kris soon realized that Rob's all-too-familiar behavior had torn the parents-to-be apart.
As RadarOnline.com readers know all too well, Rob spent years in a deep depression
only made worse by drug abuse.
"It scared me, because everything we had experienced with him, she was experiencing, same thing, Kris explained to Kim and Khloe.
In another scene, Kim told Kourtney she had also called former BFF Chyna, who said she was frustrated by his sleeping all day and difficult attitude.
Article continues below advertisement
"He's depressed," Kourtney summed up.
Meanwhile, Kris planned a big 32nd birthday bash for Khloe at Dave & Buster's arcade and party venue.
Though Rob seemed iffy on the possibility of attending, he eventually showed up to the soiree with Chyna, who made her grand KUWTK debut on week before the premiere of her own reality show, Rob & Chyna.
"It means the world to me to have my brother at my birthday," Khloe gushed, while also acknowledging former enemy Chyna's efforts to make good with the famous family. "It shows me how much Chyna does care about Rob...That's an intimidating situation to walk into."
In a much less exciting subplot, Kourtney got over her fear of public speaking while taking the stage at Glamour's Women of the Year Awards in London— and also spoke about her fragile, now platonic relationship with baby daddy Scott.
"Do you ever think you and the Lord will get back together? You know you are, right?" Khloe asked.
"I just don't know what's in God's plan," Kourtney sighed. "Somedays I'm like never, and some days I'm like, maybe in the future."
Either way, she concluded, a reconciliation would not be happening in the future.
Should Kourtney take cheating Scott back? Sound off in the comments.