Shocking Video: Tamra & Vicki Hospitalized After Terrifying Dune Crash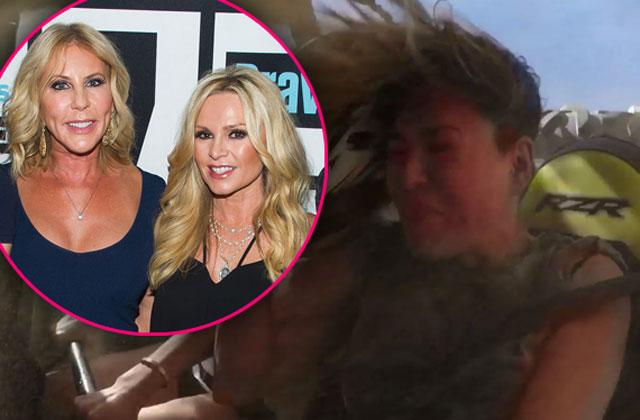 The Real Housewives of Orange County are headed for a collision this week — a full-on, dune driving collision, that is!
Tamra Judge, Vicki Gunvalson, Heather Dubrow and Kelly Dodd traveled to Glamis to celebrate Eddie's birthday. While the trip is supposed to be down and dirty fun, Tamra and Heather remained wary of Kelly's filthy mouth, especially after she puked during the long RV ride thanks to some motion sickness.
Article continues below advertisement
When they finally arrived to Glamis, the ladies got some fresh air with motor sports. The next day, they set out to explore the dunes in four-wheelers — and it became a ride they never forgot.
"I have a bad feeling," one of the 'Wives blurted out as Tamra drove furiously on the sand, which served as major foreshadowing for what happened next.
After plowing over a dune, Tamra lost control of the vehicle, rolling the it 360 degrees and knocking off Kelly's helmet in the process.
MORE ON:
The Real Housewives of Beverly Hills
"Nobody move," Heather ordered as Vicki cried out "I'm hurt" before throwing up all over Kelly's lap.
When local EMTs arrived, Gunvalson was even airlifted from the site wearing a neck brace, revealing that she was numb in her right hand.
Meanwhile back in Orange County, Meghan King Edmonds received the results from her pregnancy test, discovering that she was, indeed, expecting!
"I can't believe it. It's real," she smiled while sitting on stone-faced husband Jimmy's lap.
"I'm not gonna cry, but I'm happy," the pro athlete responded, monotone.
Watch The Video On RadarOnline
When Meghan received a call about the dune accident from Heather, she decided to skip out on going to check on them in the hospital — a big no-no to the rest of the 'Wives. Her decision will surely bring trouble next episode!
Find out what happens next on the Real Housewives of Orange County, Monday at 9 p.m. ET on Bravo.