Dine & Dash? Kelly Dodd Accused Of Skipping On Dinner Bill!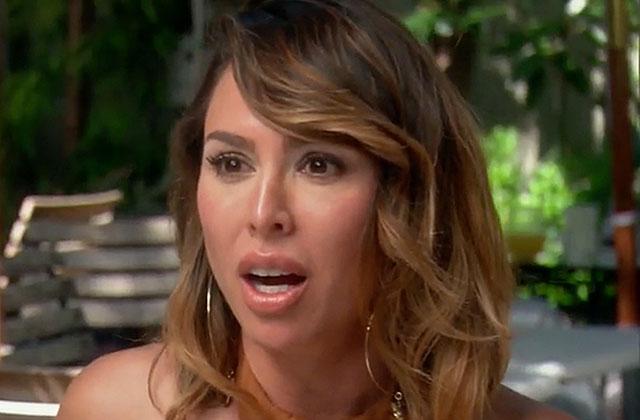 Kelly Dodd isn't just rude to Housewives — she's rude to wait staff too, RadarOnline.com has learned!
Dodd, 40, dined at Lisa Vanderpump's restaurant PUMP with Vicki Gunvalson on September 12, and caused quite a scene!
According to the restaurant's manager, Dodd was "irate" when she "was left with her party's bill because they had all stepped out."
"After getting her receipt, she forgets having offered to pay and claims she is not responsible for what her friends ate and drank," his Facebook rant read. "This is the moment I witnessed a BRILLIANT demogorgon from Stranger Things impression. I mean, just beautifully executed. She goes full screamo on me about how it's our fault she paid for everyone and how it's now MY job to go find HER friends (whom I don't know and never saw) so they can pay their portions."
Article continues below advertisement
"Lisa Vanderpump and her husband Ken Todd are on a six hour flight from LAX to Washington D.C. right now, as she prepares to testify before Congress in support of House Bill #752 Wednesday morning on Capitol Hill," Vanderpump's rep told RadarOnline.com.
"They had not yet heard about the incident prior to their flight, as she was not at PUMP last evening and was working on her speech late into the night."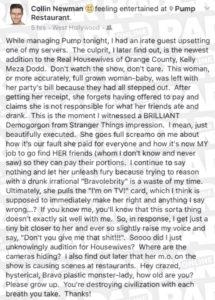 "I continue to say nothing and let her unleash fury because trying to reason with a drunk, irrational 'Bravolebrity' is a waste of my time," it continued. "Ultimately, she pulls the 'I'm on TV!' card."
The Real Housewives of Orange County star took to her Twitter to defend herself, but the posts have been deleted.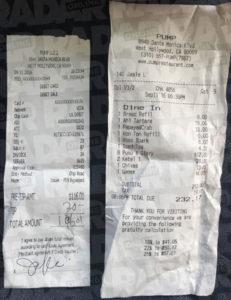 Regardless, the manager still took to his own Twitter page to clarify the situation again.
And of course, former SUR employee Kristen Doute weighed in as well.
UPDATE:
A source close to Dodd told Radar, "The bill was paid. She definitely did not dine and dash and she has the receipts to prove it. There was a verbal argument over how the bill was to be divided up. Also, Kelly was told by PUMP that it was a fraudulent twitter account which is why she deleted her tweets. The account has been since removed."