Exclusive
Trayvon Martin's Family Secretly Involved In New Kate Hudson Movie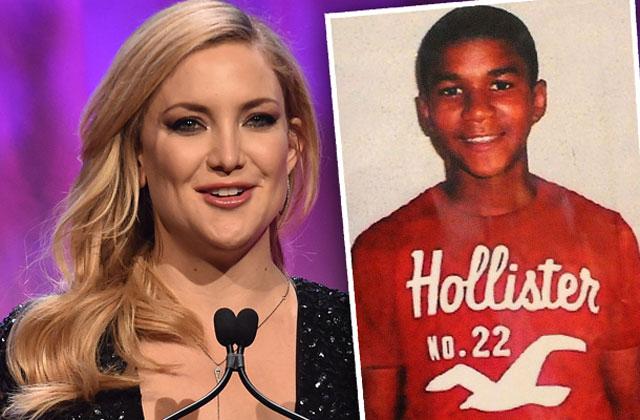 Trayvon Martin's mother and father, as well as the family's lawyer, are headed for Hollywood, Radaronline.com has exclusively learned.
The trio secretly filmed scenes this summer in Buffalo, New York for a new movie coming later this year, called Marshall, directed by Reginald Hudlin.
The film takes place in 1940, when a young NAACP lawyer named Thurgood Marshall (Chadwick Boseman) travels to Connecticut to defend a black chauffeur (Sterling K. Brown) wrongly accused of raping a beautiful socialite (Kate Hudson). Josh Gad, of The Book of Mormon fame, plays the lead lawyer on the case.
Article continues below advertisement
According to insiders, the Martins play a fictitious family that Hudlin cooked up as a PR hook when the film comes out.
As RadarOnline.com readers know, their 17-year-old son Trayvon was shot to death by George Zimmerman in Sanford, Florida in 2012. Zimmerman was later acquitted, causing dozens of riots and demonstrations.
"People who don't know who Thurgood Marshall was will hear their names promoting the film," a source told RadarOnline.com exclusively. "It's a good idea and a way to make it current."