Not 'Keeping Up!' Adele REFUSES Dinner Date With Kim & Kanye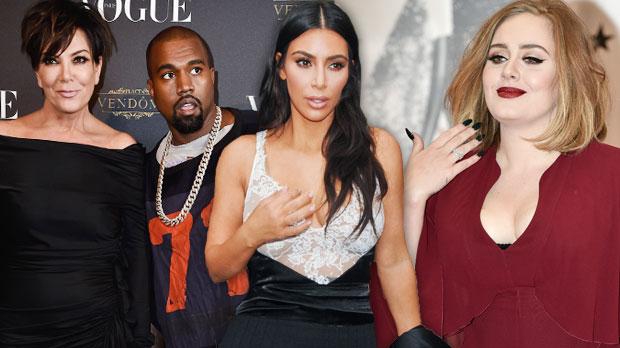 Kim Kardashian has plenty of famous friends, but Adele isn't one of them!
The singer recently purchased a home near Kardashian, 35, and Kanye West, 39, but she won't be going over for dinner anytime soon!
Although Adele, 28, is a Keeping Up With the Kardashians fan, she rejected Kris Jenner's invitation to get together with the family! The momager, 60, wanted to use a dinner with the family and the "Hello" singer to boost the show's ratings, but Adele refused!
Article continues below advertisement
"Kendall has been pushing for her to come to dinner as she is smitten by her," an insider revealed to the Sunday Mirror. "She loves her talent and thinks she is a really funny woman."
"And now the family is on board, Kris feels it would be amazing for Kim and Kanye to give Adele an LA welcome and insiders' knowledge after she bought a place here," the source added.
"Of course Kris, as executive producer on the E! series, knows that getting the dinner on TV would be viewing gold, but at this stage, Adele is not sold on that idea," the insider noted. "She hasn't ruled out a dinner another time – it's just a reality show isn't for her."