She Deserved It! Murdered Mom Tormented Daughter Accused Of Killing Her, Family Says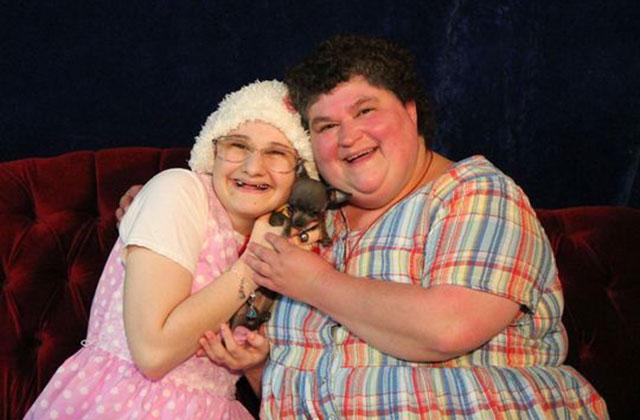 Accused killer Gypsy Blanchard was tormented for years before she snapped and murdered her mom, a family member told RadarOnline.com. The 24-year-old is in jail over allegations she murdered her mother Dee Dee in cold blood but new evidence has caused the complicated case to take a much more sinister turn.
Gypsy, who allegedly stabbed her mom to death with he help of boyfriend Nicholas Godejohn in 2015, used a wheelchair for her whole life before her mother's death, and was thought to have had muscular dystrophy and leukemia. But now, Missouri Sheriff Jim Arnott says she is believed to be a victim of Munchausen syndrome by proxy – a type of abuse where the parent fakes a healthy child's illnesses.
Article continues below advertisement
Bobby Pitre, nephew to Gypsy's mom Clauddinnea "Dee Dee" Blanchard, told RadarOnline.com that he believes that his jailed cousin was the true victim!
"Gypsy was just pretty much confined to that wheelchair," he told RadarOnline.com. "Dee Dee made her think she couldn't walk but she was completely fine. She would shave her head and made everyone think she had leukemia, put her in the Specials Olympics — just a lot of BS."
Pitre insisted that Dee Dee forced Gypsy to act sickly, even though when mom wasn't looking, she would behave like a normal, healthy kid.
"When she was a kid, her mom would tell her to get in the wheelchair. But Gypsy was actually pushing other kids around in the wheelchair!" he recalled. "Gypsy would be running around like a normal child and Dee Dee would start screaming like a banshee, 'Get in that wheelchair!'"
Article continues below advertisement
For a long time, he said, Gypsy accepted her life. But he said he is not surprised that she is now accusing of retaliating against her mom.
"Gypsy would be like 'Ok, mom.' It was a matter of 'That's my mom. I'm gonna do what she says.' And I think it started from such a young age, that's what she knew," he claimed. "It was normal for her. I'm sure that's why she retaliated when she did. Deep down inside she knew that it was f**ked up — 'Something's not right. I gotta get out of here!'"
Pitre claims he always suspected something didn't add up.
"Dee Dee would always say like, 'Oh, Gypsy's legs collapsed today so we had to soak them.' Five minutes ago, there was nothing wrong there. So when people were around, there was nothing really wrong with her but when it just the two of them, her legs were collapsed," he told RadarOnline.com.
Pitre, who lived with Dee Dee on and off as a teenager, claimed that she was always "strange."
Article continues below advertisement
"She was into dark arts, always talking about witchcraft and things like that," he said. "She used to wear a pentagram around her neck – she used to act like she was scary. That was before Gypsy was born but she was always strange."
"Dee Dee was a really two-faced person," he continued. "One day she would be ultra cool to me, I was her best friend, and then seconds later she'd be like, 'Lock the door! He cant come in here!'"
As RadarOnline.com previously reported, Gypsy and her boyfriend, Nicholas Godejohn, whom she met on a Christian online dating site, are accused of killing Dee Dee and trying to run off after stealing over $4,000 in cash from her safe.
The pair was apprehended two days later when police were notified of the murder via a chilling Facebook post that read "That B***h is dead." Prosecutors have fought to give her a lenient 10-year sentence as opposed to the normal first-degree murder jail time, which is life in prison.
The trial is expected to begin in November.