'Don't Do This To Me!' LuAnn Shattered By Bethenny Bombshell On 'RHONY'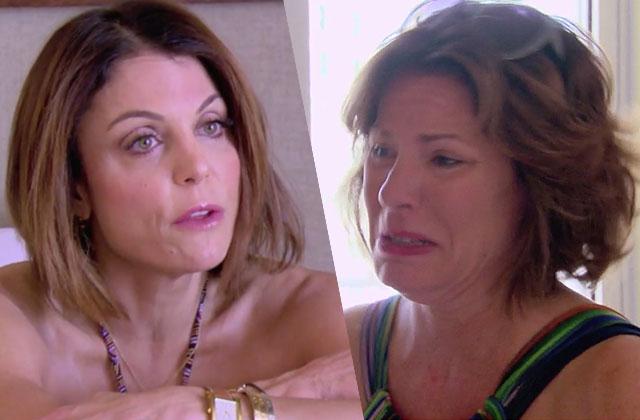 The sentiment that one should not shoot the messenger normally applies to a person sent by someone else to deliver unfavorable news. This sentiment does not apply to Bethenny Frankel.
While the show's "Big B" claims she has some pretty terrible news to deliver to LuAnn de Lesseps, no one has sent her along on the mission. Frankel, as she puts it, has information that just fell into her lap. Regardless of this fact, she feels a (self-appointed) duty to deliver the news, despite the fact that she and de Lesseps are not the best of friends.
Article continues below advertisement
"Of course I have to tell her. I don't see any other way," Frankel explains to the camera. For those who may have forgotton, the Skinnygirl mogul received a photo of Tom D'Agostino (current fiancé to de Lesseps, former lover of Sonja Morgan and casual TGI Friday's date to Ramona Singer) locking lips at the Regency Hotel with a mystery woman. These aren't old photos either. These photos were taken on "Wednesday!"
First, Frankel does what any responsible messenger would do, leaking the sensitive information to some of the other Housewives (later, she had the audacity to get angry that the news spread).
Ramona Singer immediately passed the gossip along to Morgan. "I had to tell her. She's my BFF!" Singer claims when confronted about it.
"When she told me I was sick to my stomach. I've been saying this all along. This guy is a player," Morgan tells the camera, feeling a sudden sense of vindication. She never considered D'Agostino the marrying type and this just proves her point.
Article continues below advertisement
"There's a part of me that's gloating inside. Like I know it all. There's a part of me that feels terrible about LuAnn," admits Frankel. The gloating side wins on this episode of Real Housewives of New York City.
As you might imagine, the girls' trip to Miami, originally intended to celebrate de Lesseps' engagement, is dominated by the casual life bomb dangling from Frankel's lips.
When Morgan suggests that Frankel confront D'Agostino with the information — they actually call him! Fortunately, the phone goes straight to voicemail.
"He's probably out fooling around with someone else," Frankel snorts.
After avoiding de Lesseps most of the trip, Frankel finally gets to deliver her message when the Countess confronts her over their previous conversation regarding her relationship.
"Why would you say something like that?" she asks Frankel.
"There was something that was dumped into my lap…I don't want this to be happening right now," Frankel pauses, hugging her boney knees close to her chest and looking at de Lesseps with big cavernous eyes, brimming with big reality show tears.
Article continues below advertisement
"So why are you doing this?" pleads de Lesseps, whose voice is starting to crack. "Please don't let it be about Tom."
"It's about Tom. And it's true. I'm going to show you some pictures…I promise there's nothing about this that I want to be doing right now," Frankel replies.
"Don't do this to me!" de Lesseps cries and runs from the room telling the cameras, "Get away from me right now! Stop filming me."
The previous night, de Lesseps sent out a warning at the dinner table, "Don't talk about my fiancé. I would kill for him right now. Don't talk about him." Messengers should take note!
The Real Housewives of New York City airs Wednesdays at 9pm.