Exclusive
Low Blow! Ashlee Holmes SLAMS Teresa Giudice After Prison Stint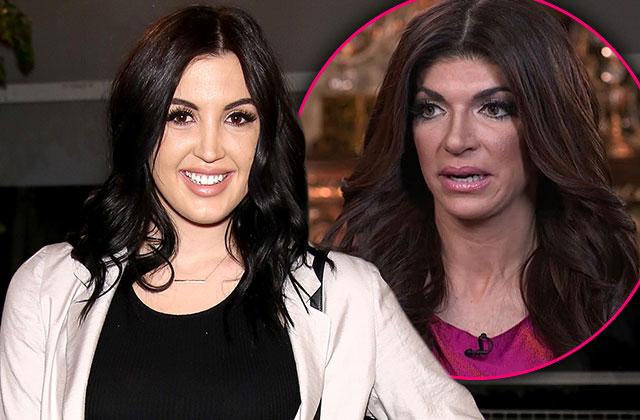 Ashlee Holmes is known for explosive social media posts — and now she's taking them to a new level by slamming her mom's former BFF, Teresa Giudice!
The pregnant reality star posted a not-so cryptic tweet in the midst of the Real Housewives of New Jersey publicity tour, and revealed to RadarOnline.com exclusively that she doesn't care what anyone thinks of it!
"I just think it's funny that someone like Teresa likes to talk so much smack about other people when she was a whole closet full of skeletons," Holmes told RadarOnline.com after posting her message.
MORE ON:
Jacqueline Laurita
Article continues below advertisement
"I'm very impulsive," she explained of her fiery posts. "There have been times I've tweeted things and then I'll delete it right after because it's not necessary. I don't deny it. If someone's like 'oh I screenshotted that' I'll be like 'that's because I f**ing posted it.'"
"I'll do or say something first and then think about the repercussions after," she confessed. "But I don't not mean what I'm saying. I just don't think it should be said sometimes."
Still, Holmes is sticking by her comments on Giudice — and her parents approve!
"I didn't see it!" Jacqueline Laurita told RadarOnline.com. "And you know what, she's 25 years old — she probably heard something she said maybe. I have no idea!"
"At the end of the day she's very defensive of her mother," her stepfather Chris Laurita added. "She's always protective of her mother no matter what and whenever she sees her mother hurt she's one of the first people to jump up and protect her, so it sounds like she was protecting her."
As RadarOnline.com previously reported, Laurita, 46, is in the middle of an epic feud with Giudice, 44, and Melissa Gorga, 37.
"A lot of times people don't like to hear the truth, and with Jacqueline, she's gonna tell you the truth no matter what," Laurita told RadarOnline.com of the feud. "Whatever she's thinking comes out of her mouth. There's no filter, but it's the truth so a lot of times people have a hard time hearing the truth. So with that, Jacqueline's a threat to people."