Exclusive
Kim Richards Dog Bite Victim Slams 'RHOBH' Star & Sister Kyle Over Pit Bull Attack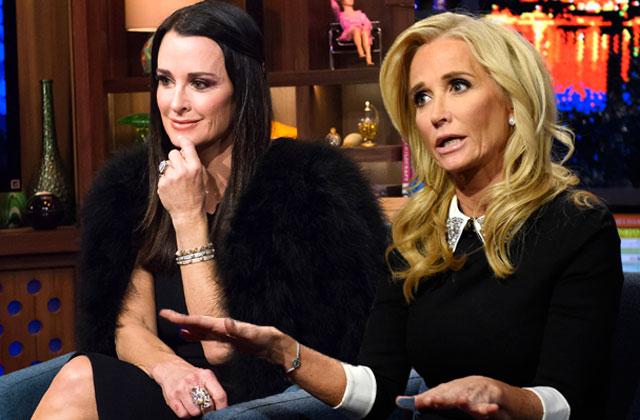 Real Housewives of Beverly Hills sisters – Kim and Kyle Richards — have been slapped with a lawsuit by a former assistant, Paige Sanderson, who claims that she was viciously attacked by Kim's beloved pit bull, Kingsley, while at Kyle's Beverly Hills home.
As Sanderson's case against the reality star siblings heads to court, RadarOnline.com spoke exclusively to Kingsley's fifth alleged victim, 81-year-old Kay Rozario, who declared: "I would definitely love to talk to Paige Sanderson because I feel partly responsible for her brutal attack!"
Article continues below advertisement
As fans know, Rozario was mauled by Richards' pit bull in 2014 while staying as a guest at her home. That same year, Kingsley also attacked Kyle's daughter — 20-year-old Alexia Umansky.
After a long and drawn out court battle, Rozario was awarded general damages in the amount of $8,083.54. At the time, Kim assured the courts that she had gotten rid of Kingsley — but it turned out that was not the case.
And Rozario still wants revenge. Rozario's lawyer, Bill Zuhdi told Radar, "Kay Rozario's appeal in the Ninth Circuit Court of Appeals centers around punitive damages on the same issue that is reportedly in the new allegation filed last week – that Ms. Richards delayed medical care and refused to help the new dog bite victim until her terms were met, and shows that Ms. Richards has a history of putting her dog's welfare over the safety of people."
Article continues below advertisement
Claimed Rozario, "Kim asked me this same exact thing to me as she did to Paige! She tried to force me to not tell anyone about my attack as I was gushing blood all over the place! I had two huge wounds. I at the time I thought 'I am definitely going to die at the paws of this dog He is going to kill me!'"
"When Kim would not get rid of the dog, I said, someone has to stop her. What I didn't want on my conscious was someone to get hurt or killed by that dog! And then this happens! She still has that dog. Kim has not paid me and will probably never pay me," Rozario – who has known both Kim, 51, and Kyle, 47, for almost 40 years – added.
"And as far as Kyle goes, this dog almost bit her daughter's hand off! Not only does Kyle allow Kim to keep the dog, but she also allows this dog in her own house? That makes no sense," Rozario told Radar.
"I hope that Paige wins this suit against the both of them to teach them a very valuable lesson: Human life is more important than money or fame. Sadly, it is just a matter of time before this dog kills someone."
What do you think Kim should do with her dog? Tell us your thoughts in the comments below.