Exclusive
Kim's Ultimate Revenge! Taylor Swift Feud Reignites Over 'Forbes' Cover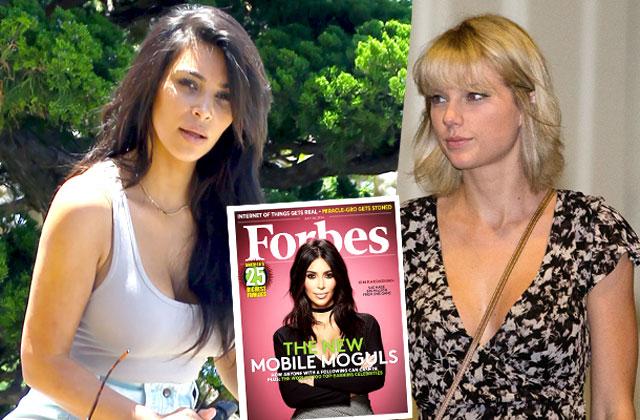 Just when Taylor Swift thought that she had no more "Bad Blood" with the Kardashian family, Kim Kardashian has delivered the final blow to her opponent – and it's a knock out! RadarOnline.com has learned that her new Forbes magazine cover has swift seeing red!
The 35-year-old Keeping up with the Kardashians superstar landed the coveted cover for the 2016 Top 100 Celebrity Earners issue — despite the fact that Swift FAR outranked her.
Article continues below advertisement
Going by the numbers, Swift, 26, earned whopping $170 million last year, which put her in first place as the top earner. In contrast Kardashian – who, as fans know, has been in a nasty back-and-forth spat with Swift over hubby Kanye West's non-stop digs at the singer – earned a measly $51 million – putting her in 42nd place.
So why did the magazine decide to give the internet-breaking beauty a chance to break the news stands as well?
"What Kim wants, Kim gets," a source close to the Kardashian clan told Radar. "Taylor was expecting this cover, and she wanted it BAD, but the editors knew that they needed something better than Taylor."
Once the decision was made, "Forbes made Kim sign a clause that she would keep the fact that she was going to be the cover girl a secret from everyone," the source said — especially Swift!
"They did not want Taylor to create drama over it," said the source. "But the Kardashians all knew Kim was going to get it and they are so happy. None of them can stand Taylor."
Article continues below advertisement
As Radar previously reported, the shade between the two divas became even darker last month when Kardashian told GQ Magazine that Swift was lying about knowing she would be mentioned in Kanye's new track, "Famous." West rapped in the song, "I feel like me and Taylor might have sex. I made that b*tch famous."
Even though Swift fired back denying Kardashian's claims, all of the parties involved seemed to bury the hatchet and quiet down.
But the source told Radar, "That was all for show!"
"Ever since Taylor slammed Kanye when she was accepting her award for Best Album of the Year at the Grammy Awards, Kim has been out for revenge," the insider said, adding, "She was done with her at that moment and is just glad that she found a way to shut her down."
But was it Swift who had the last laugh?
Coincidentally, the Forbes.com "Quote of the Day" on July 12, the day after the cover release, was taken from Swift's 2016 Grammy Awards speech — the very moment that started all of the drama!
"Someday when you get where you are going, you will know it was you and the people that love you that put you there," said the quote.
Who do you think won this round? Sound off in the comments below.