Exclusive
It's War! Farrah Abraham SLAMS 'Disgusting' 'Wacko' Dr. Drew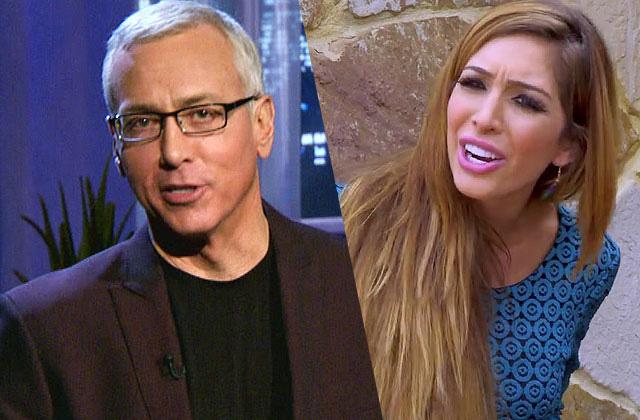 Farrah Abraham is on the warpath! After the Teen Mom reunion host said he would strangle the "frustrating" 25-year-old on a podcast earlier this week, she shot back with even more explosive comments about her former friend in an exclusive interview with RadarOnline.com!
"I know sic longer will credit Dr. Drew as a professional ethical Doctor," she revealed to RadarOnline.com. "As well I will no longer have him around me for my health and safety due to his violent 'strangle' actioning sic."
Article continues below advertisement
As RadarOnline.com reported, Dr. Drew said during an appearance on Allegedly with Theo Von & Matthew Cole Weiss that if he could strangle any Teen Mom star, it would be Farrah.
"Sorry Farrah," Dr. Drew said, admitting, "She's not awful. She's frustrating. She's not awful. She suffers. I feel bad for her a lot. But she can be very frustrating."
Farrah hit back, "Dr.Drew clearly is frustrated by me as I don't let him in my life and he has just proven why as he's a wacko!"
"It's disgusting when a Doctor who you think can empathize and understand you for many years says they want to strangle you & then call me beautiful & a women but then again acts like all I do is Porn sic."
"Ok Dr.Drew it sounds like you want to strangle me & f**k me, gross!" she fired back.
Abraham even called out the 57-year-old's personal life, slamming, "hope your marriage is doing ok!"
"Dr.Drew, reality check," she continued. "I have a restaurant now. I've had two degrees. Opening two more businesses this year. I'm successful in many things beyond a celebrity sex tape that you probably still watch daily. Like New York times best selling author, the top reality star and much more."
"To the women out there: Never let any doctor or know-it-all man speak horribly about you or your future," she said.
"I only feel horrible for people like Dr. Drew who have to lie about hard working positive & prospering people like myself to make them feel better and get attention from media since he's so desperate for it," Abraham concluded.
What do you think of Farrah's response? Tell us in the comments below!