Leaked Photo Reveals Gunman Micah Johnson's Dead Body At Dallas Protest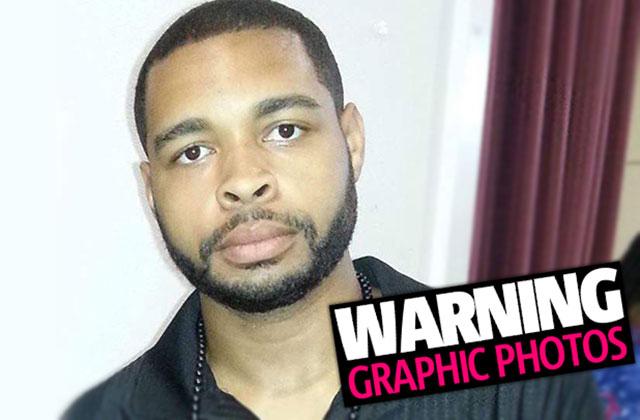 WARNING: GRAPHIC CONTENT
Photos of sniper Micah Xavier Johnson's corpse have leaked online — and RadarOnline.com has the proof.
As reported, police killed the 25-year-old with a bomb robot hours after he opened fire during a Dallas protest over the recent shootings of Alton Sterling and Philando Castile.
"We cornered one suspect and we tried to negotiate for several hours," Dallas Police Chief David Brown said during a press conference. He further explained that there was "an exchange of gunfire with the suspect" when negotiations "broke down."
Article continues below advertisement
As RadarOnline.com readers know, Johnson fatally shot five officers and injured another 11 during the protest.
Meanwhile, Brown uncovered shocking information that revealed Johnson, a former army veteran, had planned more attacks prior to his death.
"We're convinced that this suspect had other plans and thought that what he was doing was righteous and believed that he was going to target law enforcement to make us pay for what he sees as law enforcement's efforts to punish people of color," he told CNN's Jake Tapper.
He explained that investigators found bomb-making materials at his home — and a journal that described his future plans.
"There was quite a bit of rambling in the journal that's hard to decipher," Brown said, adding that Johnson "obviously had some delusion."
The sniper was interrogated by authorities during his negotiations on July 7, and revealed that his motive was to target "white people."
When he refused to surrender, Johnson was killed by a robot-detonated bomb.