Exclusive
Teresa Bankrupt? Giudice's Chapter 7 Case Reopened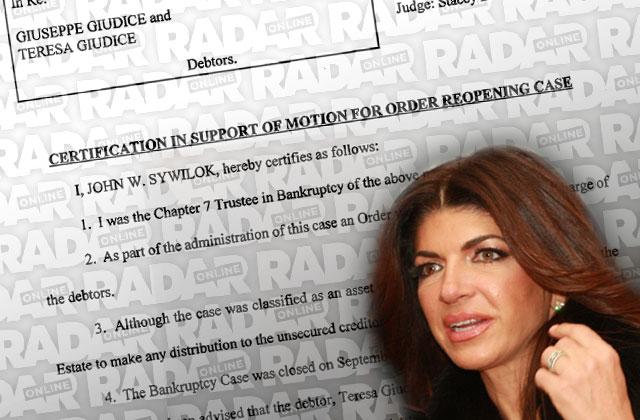 As Teresa Giudice prepares to duke it out with her former bankruptcy attorney, she's just been dealt another round of legal drama!
RadarOnline.com has exclusively learned that Giudice's former bankruptcy trustee, John W. Sywilok filed a motion on Friday to get involved in the 43-year-old Real Housewives of New Jersey star's legal malpractice lawsuit against her former attorney James Kridel.
According to court papers obtained by Radar, Sywilok wants any money Giudice wins from the malpractice lawsuit, he wants it to go to her creditors. Sywilok claims in the documents that potential winnings from the malpractice suit should be considered an asset that predates the bankruptcy.
Article continues below advertisement
READ The Shocking Court Documents!
In the motion filed on April 29, Sywilok asked that the Chapter 7 be reopened, and that a trustee be appointed to deal with the lawsuit.
"The Chapter 7 Trustee will have to determine the value of this asset and whether its liquidation will realize a meaningful dividend to unsecured creditors in this case," the papers read.
The motion also said that Giudice's bankruptcy case was originally closed on Sept. 29, 2014, and "there were insufficient funds in the Estate to make any distribution to unsecured creditors."
Unfortunately for Giudice, Sywilok's motion to reopen the Chapter 7 was approved, and now her new attorney Carlos Cuevas, who is handling her lawsuit against Kridel, has to deal with fighting this motion.
"Apparently he Sywilok is seeking to take control of the litigation, so we need to respond to that," Cuevas told Radar. "We are fighting the trustee's motion. Teresa is very tough woman and we're going to contest it."
Cuevas added, "Our contention is that we have alleged that the vast bulk of the malpractice occurred subsequent to the filing of Mrs. Giudice's bankruptcy case, and therefore it is not property of the estate."
According Cuevas, he has until May 16 to file his answer to Sywilok's motion.
Giudice's team is also scheduled to face off with the trustee during a hearing set for May 24.
Story developing.