Exclusive
Scientology Leader's Father Exposes Tom Cruise's Twisted Relationship With Religion In New Tell-All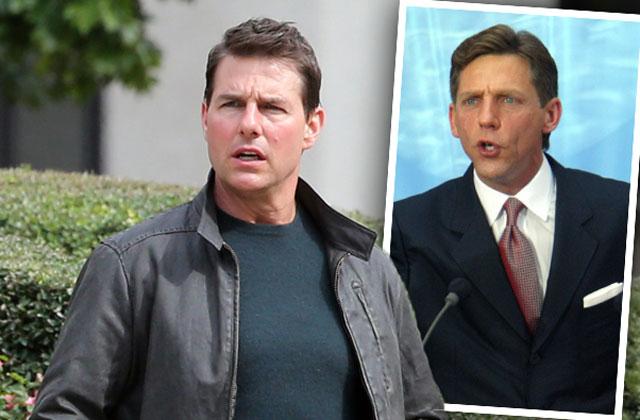 Tom Cruise's worst nightmare is about to become a reality.
Less than a year after Leah Remini accused Tom Cruise of throwing epic tantrums in her tell-all, Scientology leader David Miscavige's father, Ron, is coming forward with startling new accusations about the actor's close ties to the religion.
The bizarre relationship began in 1990, Ron alleges in his upcoming book Ruthless, when David flew to Daytona Beach, Florida, in order to recruit Cruise, whose then-wife, Mimi Rogers, had family members involved in Scientology.
Article continues below advertisement
David was determined to make the leading man the face of the religion.
"He was deeply impressed with the public relations potential that Cruise could lend to Scientology," Ron recalls in his shocking new read, out May 3.
The actor, who was filming action flick Days of Thunder, and Scientology's young Chairman of the Board went skydiving, and soon developed a fast friendship.
Soon, Tom, then 27, began the "very hush-hush" conversion process under his birth name, Thomas Mapother, which included auditing in Los Angeles and training at the Sea Org base in Clearwater, Florida.
Tom was hardly treated like the average Scientology recruit, instead receiving celebrity treatment under new pal David's orders.
To impress the star at the Sea Org base, "David orchestrated every detail" of an elaborate welcoming celebration, Ron writes.
In anticipation of the star's arrival, David arranged for late Scientology founder L. Ron Hubbard's personal chef to prepare a fancy dinner at the pool area, which was designed to look like a luxury sailboat.
Article continues below advertisement
However, David's mood soured when Tom arrived four hours late to the base, and immediately went to bed without dinner.
David "hit the roof," Ron claims.
But the new bond was repaired when the men went skeet shooting at the compound's rifle range the following day, and Tim gifted David with an automatic skeet launcher.
The two developed a "brotherly, competitive spirit," Ron says.
More than 25 years later, Tom and David are the best of friends, with David serving as Tom's best man in his weddings to Nicole Kidman and Katie Holmes. (Both marriages notoriously ended in divorce.)
And now, the Scientology leader, now 55, has also grown accustomed to the celebrity experience himself.
"'David lives like a prince wherever he travels and flies first class or in Tom's private jet," Ron fumes, while his staff live like "indentured servants, at best."
David has reportedly threatened to sue his father's publishers for the damning tell-all.