Amber Rose Confirms Rob Kardashian & Blac Chyna Engagement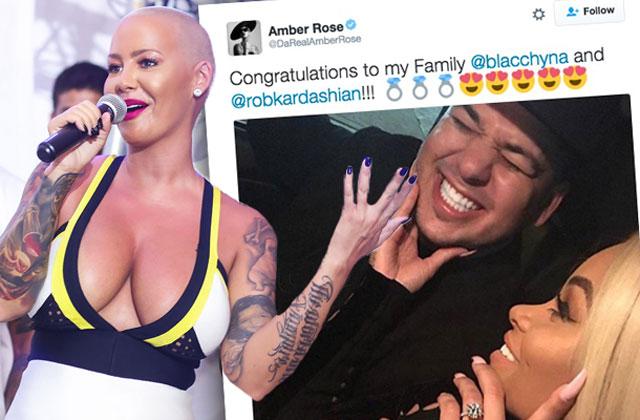 Amber Rose seemed to confirm bestie Blac Chyna and Rob Kardashian's engagement this morning, taking to Twitter to offer her official congratulations.
As RadarOnline.com previously reported, the couple appeared to announce the big news on Instagram last night, posting a photo of Blac's larger-than-life diamond ring accompanied by a big "Yes!" as the caption.
"Congratulations to my Family @blacchyna and @robkardashian!!!" 32-year-old Rose wrote to the happy couple, along with multiple ring and heart emojis."Pease don't let nothing or no one tear u guys apart! I never seen my sis so happy and I couldn't be more happy for her! Sometimes we find love in the strangest places."
Article continues below advertisement
Of course, Rob and Blac's relationship has been a sore subject since it began in January, as Blac Chyna is the baby mama of rapper Tyga, who is dating Kylie (Rob's sis).
And think about this: If Kylie ends up marrying Tyga, she will become stepmother to his son King and, in turn, Rob will be his stepfather! Twisted? Most definitely.
Do you think they're really engaged or is this all a stunt? Let us know in the comments below!