Another Kardashian Sweatshop Scandal EXPOSED! Kylie's Lip Kit Factory Blasted By Employees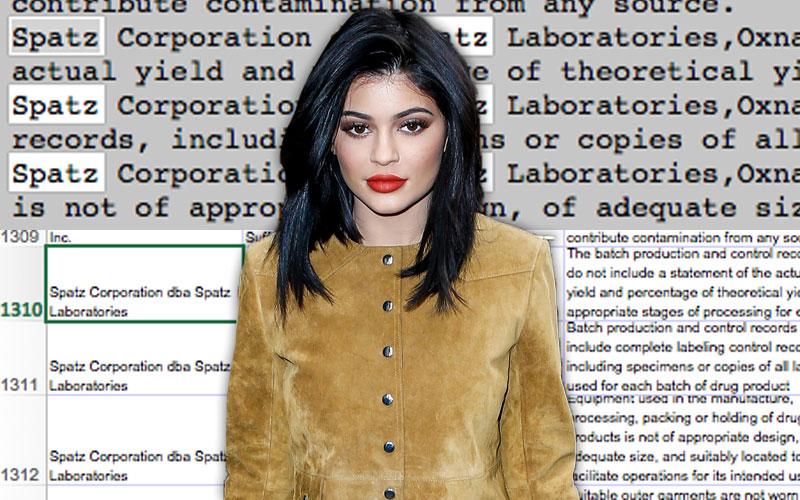 Article continues below advertisement
While the company does have an overall rating of more than 3 stars, the page is littered with complaints.
"A lot of employees, not enough space," a review from March 8, 2016, reads.
"Long hours, no home life," a production worker claimed in February 2016. "Was only provided with lab coat, hair net and safety glasses. No benefits." While the worker said they loved to "see how makeup was made from start to finish," they claimed "… The makeup particles made me cough and sick."
In January 2016, a line assembly employee called the factory a "sweat shop!" They ranted, "The pay is very minimal for the amount of work that is requested with no benefits … work environment very uncomfortable."
And while one worker called it "a great place to learn new things," yet another blasted that it was "a terrible work experience that I wish I do not have again!"
It's not just the workers who have criticized Spatz Labs. RadarOnline.com has uncovered FDA inspection reports that reveal the company was cited for a variety of issues at their Oxnard facility in 2006.
Article continues below advertisement
According to FDA records, at that time the inspector found, "the batch production and control records do not include a statement of the actual yield and percentage of theoretical yield." Another citation claimed, "batch production and control records do not include complete labeling control records." And finally, they claimed, "Equipment used in the manufacture, processing, packing, or holding of drug products is not of appropriate design, of adequate size, and suitably located to facilitate operations for its intended use." These issues were apparently resolved, as Spatz has not been cited again since that time.
Following the inspection, a rep for Spatz Labs told RadarOnline.com, "We were presented with an immediately implemented suggested corrective action." According to the rep, the factory is not regulated by the FDA and has not been inspected since.
"Spatz Laboratories has over 60 years of experience in manufacturing and has always maintained the highest level of standards according to United States labor laws," the rep continued.
Article continues below advertisement
"Spatz Laboratories is an equal opportunity employer that is committed to ensuring compliance of all federal and state laws as they apply to the fair treatment and the safe work environment of its team members. This includes but is not limited to all Wage and Hour, Fair Labor Standards, Worker's Compensation and OSHA regulations. We take pride in the fact that as a company we have had significant success in developing team members and provide them with long term careers if they choose."
What's more, the rep claimed, "Spatz Laboratories completed and passed its most recent comprehensive third party social accountability and responsibility audit on March 3, 2015. This audit certified that Spatz Laboratories is in compliance with the highest standards and requirements as it relates to: Labor practices, health and safety, discrimination, discipline, harassment, compensation and hours of work. The ownership and management of this company takes the health, well being and success of our employees very seriously and always committed to upholding the highest standards." The company is SA800 certified.
This is not the first time the extended Kardashian family has faced claims that their products are manufactured in unsafe conditions. In 2011, Star magazine reported that a top human rights organization had launched an investigation into the reality family's Sears line, with claims they were profiting from what amounted to "slave labor."