Kylie Betrayed! Why Tyga's Response To His Ex's Engagement 'Destroyed' Jenner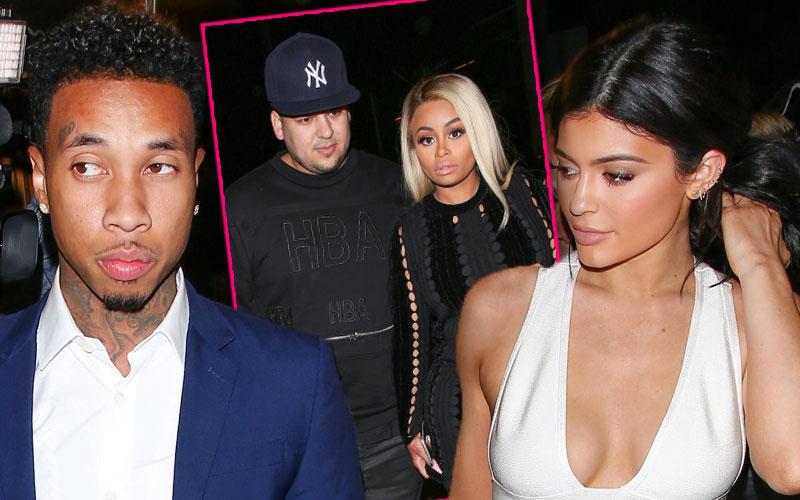 On-off couple Kylie Jenner and rapper Tyga are seriously OFF again! After Jenner ditched her 26-year-old rapper boyfriend last night at an L.A. movie premiere for his upcoming film Barbershop, RadarOnline.com has exclusively learned that Tyga took off today on a world tour – without her. And according to a well-connected Kardashian family insider, Rob Kardashian's engagement this week to Tyga's ex Blac Chyna, 27, has "destroyed" what was left of their fragile relationship.
Article continues below advertisement
Kardashian, 31, proposed to Jenner's longtime nemesis – who is also the baby mama to Tyga's son King Cairo, 4 – while his entire family was on a skiing trip in Vail, Colorado, this week. But it wasn't a happy getaway for Kylie and Tyga. During the trip, he posted a congratulatory note to the couple on Twitter, and an insider said Jenner was not pleased.
"All this drama really started when Tyga spoke out on social media about Blac and Rob's engagement while she was away. Kylie had specifically told him to NOT say anything about it until she did," the source told RadarOnline.com. And worse, the source claimed, in posting the note Tyga was acting like a hypocrite.
MORE ON:
Keeping Up With the Kardashians
In the Tweet posted April 5, he wrote, "It makes me happy to see the mother of my son happy."
But the source said, "Tyga talked so much sh*t about Blac being with Rob to Kylie behind Blac's back and to everyone else and then he goes and sends them well-wishes. It just really p*ssed her off!"
VACATION PHOTOS: Kardashian Klan Ignores Rob's Engagement With A Night Of Family Bowling
As RadarOnline.com previously reported, however, the biggest issue that Jenner has with the whole engagement doesn't have to do with Blac Chyna at all!
"Tyga knew that Kylie has wanted him to propose to her for so long now," the insider added.
"And now she is just legit jealous of her brother Rob and Blac's upcoming wedding because the whole family is going to be focusing on that and not on her!"
Do you think that Kylie Jenner should break up with Tyga once and for all? Tell us your thoughts below.