'Teen Mom' Suicide Shocker! Jenelle's Ex Claims She Slit Her Wrists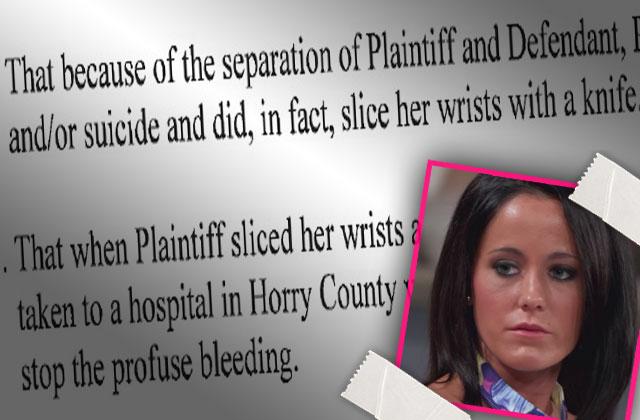 Jenelle Evans and her ex-fiancé Nathan Griffith have been embroiled in a nasty custody battle ever since they broke up last year. But in the latest round of legal tactics, RadarOnline.com has exclusively learned that the 27-year-old baby daddy dropped a major bombshell: He claims she once attempted suicide!
Griffith made the accusation when he filed his answers to Evans's claims for custody of their 1-year-old son Kaiser, on April 6.
Article continues below advertisement
In the court papers obtained by RadarOnline.com , Griffith alleged that Evans, 24, threatened to hurt herself after they broke up and proceeded to cut her wrists.
"That because of the separation of Plaintiff Evans and Defendant Griffith, Plaintiff threatened self-harm and/or suicide and did, in fact, slice her wrists with a knife," the papers read.
"That when Plaintiff sliced her wrists… Plaintiff was taken to a hospital in Horry County where her self-inflicted knife wounds were sutured to stop the profuse bleeding," Griffith alleged in the papers.
A source close to Evans denied Griffith's new allegations to RadarOnline.com.
As RadarOnline.com previously reported, Evans officially started the legal war when she filed for primary custody of Kaiser on March 3.
In her suit, she claimed Griffith "is not a fit and proper person to have custody," alleged he doesn't have "proper living arrangements" for their son, and accused him of "abusing illegal substances including steroids."
Prior to Griffith's response filing, he also took a swing at Evans when he aired all of Evans's dirty laundry—including her past run-ins with law enforcement, battle with drugs, and more—in his initial custody suit.
Griffith repeated many of his initial claims in his new filing, and continues to seek sole custody of Kaiser, but will allow Evans visitation.