Kyle Richards Admits Her Gossiping Behavior Was 'Dirty' And 'Weird' On 'RHOBH!'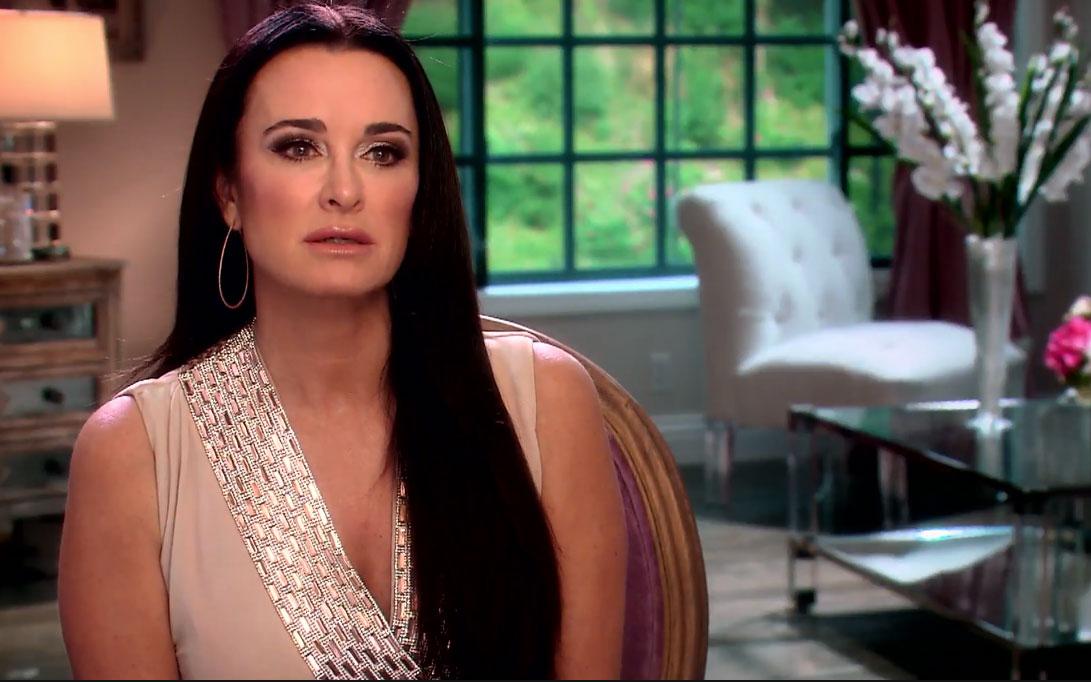 The Real Housewives of Beverly Hills started on a more serious note with Yolanda Hadid receiving an award at the Global Lyme Alliance Gala in New York City. It was the first time Yolanda got made up and dressed up in over a year and she impressed friends Erika Girardi, Kyle Richards, and Kathryn Edwards who supported her at the event.
Kyle was visibly shaken at the charity dinner. She admitted she felt extremely "guilty" for doubting Yolanda was ill and was moved by her three children especially.
Article continues below advertisement
She also realized her wrongdoings when she partook in the conversation with Lisa Rinna and Lisa Vanderpump about Munchausen's syndrome.
Yolanda Confronts 'RHOBH' Ladies Who Say She's Faking Lyme Disease
"If I had known what I know now about Lyme disease I would never have allowed that conversation to continue with Lisa Rinna. I would have shut it down right away," Kyle said in her confessional.
Kyle told Erika at the event she felt "dirty" and "weird" for sitting there and not standing up for her friend.
"I feel so bad I was even in a room with the same conversation," she added. Yolanda appreciated Kyle's sincere words and that she understand her journey on a "deeper level."
Across the world and on much more luxurious note, the women landed in Dubai for the most outrageous Housewife trip in history! Erika even brought along her glam squad and let's not forget all the suitcases packed with muumuus!
Beverly Hills Cast Taping Most Shocking Housewives Vacation Ever
Article continues below advertisement
Kyle planned the vacation at over-the-top Atlantis, The Palm Dubai hotel and the place was simply breathtaking. She and Vanderpump were booked in $40,000/night suite while Eileen Davidson's room was an underwater triplex with sharks and exotic fish! This hotel was on a whole other level of gorgeousness and extravagance.
But Rinna couldn't keep her mouth closed for long about absent Yolanda. "I've never doubted that she's sick," she explained. "I do think that Yolanda uses her illness as a shield and as a pass, and not held accountable for certain things."
Erika defended her good friend. She believed Yolanda was "doing all she can" and not "picking and choosing" what she can show up to.
Kim Richards Spotted Filming 'RHOBH' With Sister Kyle
But Rinna just can't grasp why Yolanda would want to have lunch with Brandi Glanville and Kim Richards, especially after Brandi claimed her daughter, Bella Hadid, had an potential problem with drinking.
Little did she know, Yolanda was hanging out in Malibu with Brandi who donned the smallest and whitest short-shorts ever seen on the show. "Brandi has been pretty consistent in showing up during this Lyme journey," the Dutch beauty said in her confessional. "She's not a fake."
Yolanda even told Brandi about the Munchausen gossip and B doesn't miss a beat— "Dear Lisa Rinna, get a f*cking life, eat some food, and stop talking about my friends." Brandi chalked the rumor spreading up to the women liking to "prey on the weak."
'Real Housewives Of Beverly Hills' Season 6: Secrets, Drama & Divas!
The Real Housewives of Beverly Hills airs every Tuesday at 9pm ET on Bravo.