Exclusive
Joe & Teresa Couldn't Have Sex For Days After Prison Release & More New Secrets Revealed!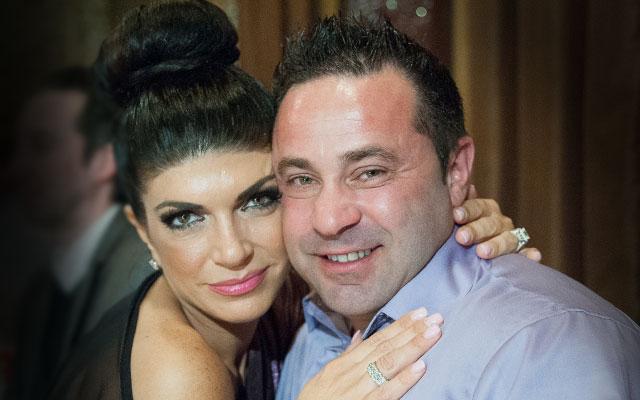 RadarOnline.com has learned Teresa Giudice and her husband Joe were unable to be intimate for two days after her release from prison because their four daughters, Gia, Gabriella, Milania and Audriana, refused to leave their bedroom!
"Joe was frustrated the girls wouldn't leave the bedroom because they had missed Teresa so much," laughed an insider. "He understood, but made it clear, on the third night, everyone would go back to their own bedrooms."
Article continues below advertisement
Fans of Teresa's will get a major glimpse into her first days of freedom when her memoir, Turning The Tables, is released in paperback this summer.
"Teresa will add a chapter at the end of the paperback about how anxious she was to get home for the first time," the source told Radar. "Knowing cameras were going to be there filming for the Real Housewives of New Jersey, she just didn't know what to anticipate."
"She was so surprised by the Lexus SUV that Joe had gotten for her, but made sure the couple could afford it," the insider added.
Turning The Tables has landed 43-year-old Teresa on the New York Times best seller non-fiction list for two weeks in a row.
Teresa's team, including her trusted lawyer, James Leonard, have "secured the most lucrative contracts and deals for Teresa," revealed the source. "Each business decision is made after extensive research and discussion."
Now, "Teresa is moving forward with other endeavors that will continue to grow her brand," the insider noted.
Teresa's mansion is no longer in foreclosure after she and Joe, 43, reached a new agreement with the bank. She has also paid off restitution in the bankruptcy fraud case and is working with the IRS to resolve the issue of back taxes.