Lisa Rinna Condemns Yolanda Hadid For Friendship With Kim Richards & Brandi Glanville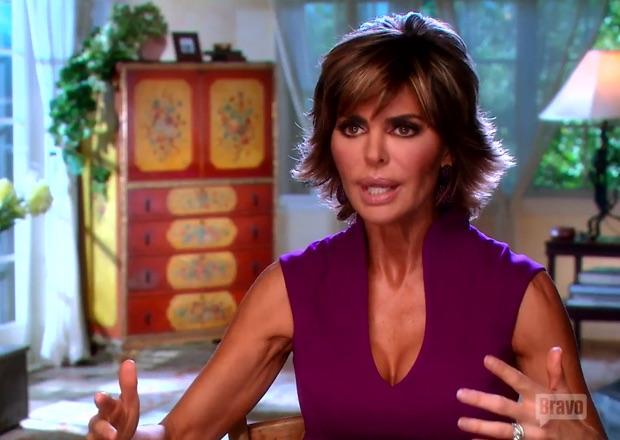 What's better than diamonds, charity events, and some unresolved issues? Apparently nothing! The Real Housewives of Beverly Hills women found themselves at not one but three charity events on this episode and they couldn't drop the drama, even for a good cause.
First, the women attended Camille Grammer's cancer/jewelry cocktail event. She revealed she is a survivor of endometrial cancer and wanted to give back. Yolanda Hadid looked fabulous with her new short hair but the smooth sailing didn't last.
Article continues below advertisement
Lisa Rinna was "uncomfortable" the whole time and even started to cry about Yolanda's picture with Brandi Glanville and Kim Richards.
"I felt that the other day I saw a picture with you, and Kim, and Brandi on the same day that Erika's dinner was, and then you didn't come to her dinner, and it got me," Rinna explained. "I didn't understand why you would cancel that dinner and not come."
"I have loyalty to Kim," defended Yolanda. "I don't have to explain my friendships to anyone." She even went on to tell the other ladies that Brandi and Kim have been bigger supporters than the rest of them!
"I have a huge trust issue with you … because you started of all this," Yolanda emphasized to Rinna and told her straight up the lunch was none of her business.
"You can get away with anything when you're sick," Rinna said in her confessional.
Meanwhile, Lisa Vanderpump organized at "Stop Yulin" march to protest the festival in China that abuses and tortures dogs before eating them.
Kathryn Edwards was totally on board, especially after receiving her new hearing aid, and even admitted that she owed Erika Girardi and her hubby Tom an apology for her rude and aggressive dinner party behavior … or maybe because she was about to get on their private plane as they all jetted to New York City.
Article continues below advertisement
Yolanda invited all the women across the country to support her as she receives an advocacy award from the Global Lyme Alliance.
Rinna and Eileen Davidson were the only two who didn't join in but they caught up while luggage shopping for their upcoming Dubai trip!
Eileen cannot drop the LVP is a "manipulator" saga and how she never apologizes for her mistakes. She expressed her trepidations about a trip half way across the world when the ladies can't seem to agree on anything.
Meanwhile, in NYC there was raw moment when Yolanda opened up about her marriage to David Foster.
Cameras overheard him telling a friend about his marriage doubts. "I want your life to go back to the way it was when you first got together," said the friend.
David replied, "How's that going to happen? I don't know."
Yolanda said in her confessional, "David has lost his wingman. He married a woman who was a social butterfly always out and doing and doing… Then all of sudden I got sick."