Find Out Who Just Copied Kim Kardashian's Nude Mirror Selfie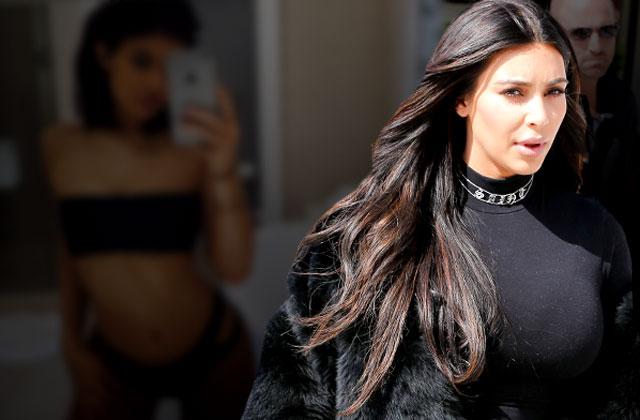 We've got another Kim Kardashian kopycat!
This time, little sister Kylie Jenner tried the reality star's bathroom selfie pose on for size, posting a snap to Instagram Wednesday night that was an uncanny rip-off.
Though the 18-year-old was actually wearing clothes for her sultry photo, her black bikini closely resembled the black bars Kim, 35, used on her NSFW self-portrait.
As Radar previously reported, a number of celebrities criticized the Keeping Up With The Kardashians star's controversial selfie, inspiring Kim to hit back with a vengeance.
Article continues below advertisement
"I don't do drugs, I hardly drink, I've never committed a crime — and yet I'm a bad role model for being proud of my body?" Kardashian wrote in a post dedicated to International Women's Day on her website and app. "It always seems to come back around to my sex tape. Yes, a sex tape that was made 13 years ago. 13 YEARS AGO. Literally that lonnng ago. And people still want to talk about it?!?!"
"I am empowered by my body. I am empowered by my sexuality. I am empowered by feeling comfortable in my skin," she went on. "It's 2016. The body-shaming and slut-shaming — it's like, enough is enough. I will not live my life dictated by the issues you have with my sexuality. You be you and let me be me."