TK-Oh No! Floyd Mayweather Threatens To Beat Up Fan During Miami Beach Vacation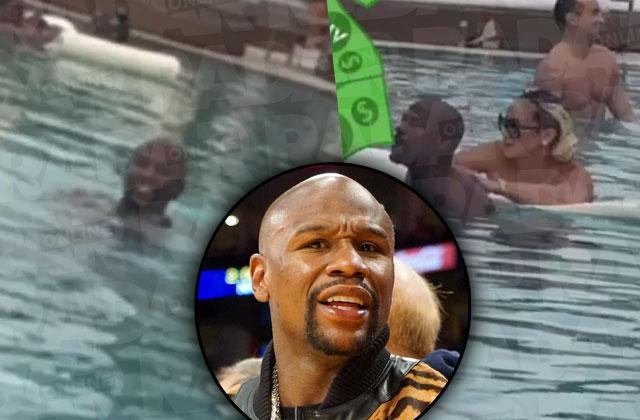 Floyd Mayweather is in need of a vacation to recover from his vacation. An eyewitness told RadarOnline.com that the boxing great was in a fighting mood during a trip to Miami last weekend, where he was spotted threatening to beat up a fan!
"He was at the Fontainebleau in Miami this past weekend with a crew of about 20, all of which he claimed was his 'family.' They had a private cabana at the pool everyday," a source exclusively told Radar.
Article continues below advertisement
Aside from keeping Mayweather, 39, company, the crew made it their job to make sure no one approached the boxing champ, the source said. And those who did sneak through were not exactly met with a welcome.
"He refused to speak or take any photos with several fans. His 'family members' served as his bodyguards and kept people away. One man asked for a picture while he was swimming with Doralie and he flipped out," the eyewitness said.
"He said, 'How would you like it if I asked to take a picture of you and your wife on vacation?!' After the man walked away Floyd went nuts. He made fists with his hands and said, 'I will f**k him up! I will f**k him up!'" the source claimed.
The eyewitness also saw the famous boxer acting strange in the pool.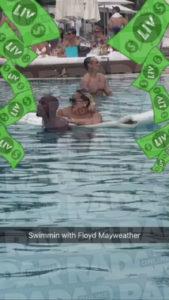 "He was obnoxious too. Loud and practicing his boxing moves in the pool— it was weird," they said.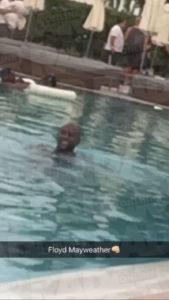 While other guests also complained about Mayweather's hostile behavior, his relationship with Medina seemed to be going well.
"They were making out in the pool," the eyewitness told Radar. "He was also at the hotel jewelry store Saturday night, maybe buying something fancy for her!"