Tears & Hysteria: Teresa Giudice Reveals Heartbreaking Goodbye To Girls In New Memoir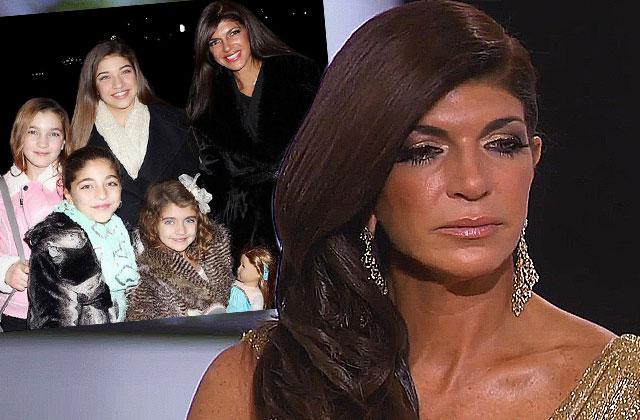 Newly free Teresa Giudice continues to lay bare the drama surrounding her recent imprisonment, including how her legal issues had a negative affect on her entire family— especially in the days leading up to her incarceration.
"Then came time for the toughest goodbyes of all. My husband Joe and I went upstairs with the girls. We all lay down on the big bed in my room. All six of us. I told the girls, 'Mommy has to leave,'" Giudice, 43, revealed in People's excerpt of the star's new memoir, Turning the Tables: From Housewife to Inmate and Back Again.
Article continues below advertisement
"Gabriella, who was 10 at the time, got so hysterical, she couldn't even breathe. She usually held her feelings inside, but now she was inconsolable. When Joe's father died, all the girls had gotten very emotional. They love their grandparents so much. We are all very close. They cried a lot. But this was 10 times worse than that. I held Gabriella and told her it was going to be okay — even though I knew it might not be. What else could I do?" wrote Giudice, 43, of of breaking the news to her daughters that she would be heading to prison that very night last January.
"Audriana, my baby, who was only 5 at the time, started to cry. Huge, heaving sobs. Then Milania, who was 8 at the time, started up, followed by Gia, then finally, me and Joe. We lay there, a tangled mess of arms and legs, hugging each other and crying. Me, Joe and Gia, bless her heart, tried to calm the little ones down as best we could. This was tearing my heart out, but I didn't let them see that. I couldn't. I had to be strong for them. They were my focus — not me. In true Milania fashion, she wiped her tears on my sleeve and we all laughed," she continued.
Article continues below advertisement
"But as I held my girls and kissed them on their cheeks and on their foreheads, I started to get mad. Instead of having more time with my babies, I had to leave for prison in the middle of the night while they were sleeping," Giudice noted of how she tried to avoid attention when checking into prison last year. "This is how bad things had gotten. This whole thing was totally out of control. How had it come to this?"
"At that moment, I knew things had to change. That I would use my time in prison to rethink things," wrote Giudice. "I was going to come out of prison a better person and try to make things right again in my life. We lay there for about an hour and a half. Then I knew it was time to start putting the girls to bed and say my goodbyes. This was going to be hardest part of all. I had dreaded this moment for months. And now it was here."
As RadarOnline.com reported, Giudice recently gave her first post-prison television interview in which she shared that she and her husband have paid off the restitution she owed the government and that the family is no longer in danger of losing their New Jersey home.
The reality star, who pled guilty to fraud charges, also continued to insist that she didn't know she was breaking the law when she committed her crimes.